taquitos.net > travel guide > Las Vegas
Las Vegas, Nevada travel guide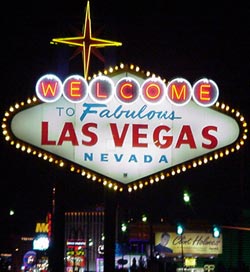 The scoop:They say "Whatever happens in Las Vegas, stays in Las Vegas." This includes your money. Even if you don't gamble, there's enough to do in Vegas that will separate you from your money.
We visit Las Vegas several times a year, usually on business but sometimes we go there just for fun. Choosing when you visit is very important, for two reasons. First, when there is a big convention in town, hotel rates get very expensive (avoid early January and whenever the rodeo is in town). Second, traveling in the summer can save you some money, but the heat may not be appealing to some. Sure, "it's a dry heat," but it's still hot and can limit your outdoor activities. Staying over a weekend can also get expensive, if you can stay between Sunday night and Thursday night you'll save some bucks.
Also, Las Vegas is a lot less "family friendly" than it was in the '90s — expect to see lots of signs for strip clubs, hookers (aka "escorts") and other adult-oriented activities. The family stuff is still there (especially the roller coasters), but is definitely overshadowed by the "sin" part of Sin City.
---
Theme Parks
Adventuredome
Good for kids, not so much for adults more ...
Star Trek: The Experience
The ultimate experience for any Trekkie (or Trekker). more ...


Hotels
AmeriSuites
Good, no-frills hotel more ...
Bellagio Hotel & Casino
If you're rich - or on a work expense account - stay here more ...
Excalibur Las Vegas Resort Hotel and Casino
Medieval theme hotel with some interesting attractions. more ...
Golden Nugget
Quality hotel on famous Fremont Street more ...
Harrah's Las Vegas
Good Strip location, decent hotel rooms. more ...
Las Vegas Hilton
Off-strip hotel that is affordable if there's no convention in town. more ...
Luxor
Hit-or-miss hotel with Egyptian theme. more ...
Mirage Hotel and Casino
One step below high-end hotel; several steps above economy. more ...
Monte Carlo Resort and Casino
Slightly above average hotel and location more ...
New York New York Hotel & Casino
Just like New York - small, expensive hotel rooms. more ...
Rio All Suite Hotel and Casino
Great rooms for business travelers. more ...
Stratosphere Las Vegas
A nice place to visit, but you don't want to stay there. more ...
Treasure Island (or TI)
Decent second-tier hotel, no more pirates. more ...


Transportation
Las Vegas Monorail
I hear those things are awfully loud. more ...


Rides
Borg Invasion 4D
A great mix of live action, motion ride and a 3-D movie. Resistance is futile. more ...
Klingon Encounter
Space adventure, decent simulator -- and Klingons! more ...
Manhattan Express Roller Coaster
Best Vegas roller coaster (that isn't on top of a building). more ...
Venetian Gondola Rides
Hokey or romantic, depending on your point of view (or perhaps gender). more ...


Restaurants
Border Grill at Mandalay Bay
Good Mexican food, but no queso or fajitas! more ...
ESPNZone Las Vegas
Great sports restaurant, decent food. more ...
Ghirardelli Chocolate
Best place in Vegas for an ice cream sundae. more ...
Mesa Grill at Caesar's Palace
Bobby Flay really likes spices. more ...
Quark's Bar and Restaurant
Theme restaurant food and prices, but worth it for Trek fans. more ...
Red White and Blue
Three different dining experiences -- breakfast, lunch and dinner. more ...
Regale Italian Eatery
A decent Italian meal, good for the family. more ...
Taquerita Cañonita
Excellent Mexican cuisine with a southwest flair. more ...
Terrace Cafe
Breakfast all day and Keno! more ...
The Steak House
Serves the largest baked potatoes known to man more ...
Top of the World Restaurant & Lounge
A good restaurant in a crappy hotel more ...
Village Seafood Buffet
If you can eat lots of seafood in one sitting, this is the place for you. more ...
Zeffirino
One of several Italian restaurants in the Venetian. more ...


Shopping
Desert Passage Shops
Lots to see, yet nothing spectacular more ...
Forum Shops at Caesar's Palace
Serious high-end shopping. more ...
Houdini's Magic Shop
Pick up some quick magic tricks or fake vomit here. more ...
M&M's World
Chocolate heaven. more ...
Star Trek Promenade
Lots and lots and lots of Star Trek merchandise more ...
Venetian Grand Canal Shoppes
Window-shopping only, unless you're a gazillionaire (or you hit at the casino). more ...


Shows
Danny Gans
Most overrated show on the Strip. more ...
Tournament of Kings
Cool jousting, OK dinner, no forks. more ...
"O" - Cirque du Soleil
Acrobats, water, and clowns on fire. more ...


Free Shows
Fremont Street Experience
Old Vegas lives! more ...
Masquerade in the Sky
Mardis Gras, Carnivale and Broadway all bundled up into one show. And it's free. more ...
Sirens of TI (pirate show)
Bring back the English! more ...
The Fountains of Bellagio
Better than watching fountains at the mall. more ...
Volcano at the Mirage
Volcano blows. more ...


Activities
Casino Legends Hall of Fame
Interesting look back at Vegas gambling history. more ...
Elvis-A-Rama Museum
A must-see for fans of the King. more ...
Liberace Museum
A tribute to the ultimate Vegas entertainer. more ...
Madame Tussauds
As close as you'll get to Elvis, Britney Spears or Shaq. more ...
MGM Lion Habitat
Don't go out of your way to visit these cats. more ...
Museum of the Future
Lots to see while you wait. more ...
Siegfried & Roy Statue
Best place to show locals that you're a tourist. more ...
SpaceQuest Casino
Beam me up and take my money. more ...
Stratosphere Observation Deck
A place for amazing views and great pictures. more ...