taquitos.net > travel guide > Hawaii's Big Island
The Big Island of Hawaii travel guide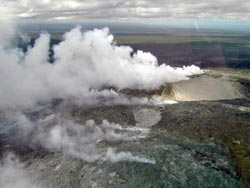 The scoop:The Big Island of Hawaii seems to be the forgotten Hawaiian island, with everyone headed to Oahu, Maui and Kauai. Yet the Big Island is great and has a lot to offer. It isn't as touristy as Oahu and is a little more hoppin' than Kauai. The best of both worlds. Yet Hawaii boasts 11 of the world's 13 climate zones, as is so large you can fit all the other Hawaiian islands in its borders twice over. You can go body surfing in the morning at Hapuna Beach State Park and later that afternoon need a parka and gloves as you ascend Mauna Kea. One side of the island is a desert, the other is a rain forest. And don't forget its volcanoes, Mauna Loa and Mauna Kea being the most well-known. We really enjoyed our time on the Big Island, and what follows are some of our favorite spots and attractions.
---
Restaurants
Bubba Gump Shrimp Co.
Good value, great view of the ocean. more ...
Bubba's
A good burger joint more ...
Imari
Excellent Teppanyaki, rather expensive more ...
Lagoon Grill
Great view, expensive food. more ...
Tex Drive In
Mmmmm, Portuguese doughnuts. more ...
Wendy's Old-Fashioned Hamburgers
The most beautiful fast-food restaurant location ever. more ...


Shopping
Ali'i Drive Shopping
A fun place to window shop. more ...
Hilo Hatties
A one-stop shop for all things Hawaiian. more ...
Kings' Shops
If you're looking for an upscale shopping center, this is for you. more ...


Activities
Akaka Falls State Park
Good if you're into waterfalls and rain forests more ...
Ellison Onizuka Visitor Center
While you're in the neighborhood... more ...
Fair Wind Snorkel Cruise
Great snorkel cruise more ...
Hapuna Beach State Park
Best beach on the island more ...
Kona Village Resort Luau
The entertainment was fun. The food was not. more ...
Pu'uhonua O Honaunau (Place of Refuge) National Historical Park
Interesting look at Polynesian History more ...
St. Benedict's Painted Church
A spiritual and art-filled journey. more ...
Waipi'o Valley Lookout
One place to take a picture-perfect postcard photo more ...
'Anaeho'omalu Bay
Not bad for a first-day-in-Hawaii beach. more ...


Tours
Blue Hawaiian Helicopter Tours
Once-in-a-lifetime opportunity, worth the money more ...
Mauna Kea Summit & Stars Adventure
Ride to the top of a dormant volcano, then watch the stars. A most amazing experience. more ...


Miscellaneous
Saddle Road
Avoid it at all costs more ...