Ruffles Flavor Rush Zesty Sour Cream & Onion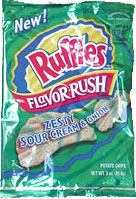 Shop for snacks: Buy Ruffles chips on Amazon
Taste test: I think these are kind of overdone. Yeah, I know it says Flavor Rush, but there's just too much seasoning on these. And the really gross thing was the big lump of flavoring (no potato, just a clump of flavoring powder) that was in the bag. Another opinion: I couldn't agree more. Whoever at Frito-Lay decided to add more powder to their chips and then call it "Zesty" should be forced to eat 10 of these bags at once. Even the commercial with Mark Messier couldn't get me to finish one of these bags.
Manufacturer: Frito-Lay North America, Inc.
Online store: Buy Ruffles chips on Amazon
From the package: "Every chip is completely LOADED with Sour Cream & Onion and seasoned to perfection. You get the biggest taste because new FLAVOR RUSH packs more flavor into the RUFFLES RIDGES to give you a remarkably intense flavor experience."
This snack was discovered by Keith and Melissa.