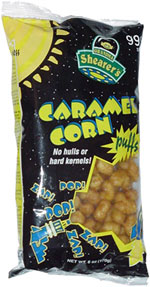 Snack Review
Grandma Shearer's Caramel Corn Puffs
Note: This snack has been discontinued by the manufacturer.
Taste test: These just might be the best snack food ever.
These are puffy corn snacks, they don't have hulls or hard kernels on them. It's like eating caramel corn without the extra pieces getting stuck in your teeth. After you bite into one, the inside of the puff melts in your mouth. It's extremely hard to stop eating these after you've begun.
Shop: Buy popcorn on Amazon #ad
Smell test: Open a bag and it smells like a big vat of gooey caramel. Mmmmmm.
From the package: Quite possibly the most interesting "back of the bag" story we've read ...

"Martian Movie Madness — 'Aww Mom, c'mon please .... can't I go? I'm only going to Earth, it's not like I'm going to Pluto or something.

'Oh, alright, Tznear, but those antennae of yours better be back on Mars by twelve stars and a quarter moon, or you will be stuck on this planet until the next light year.'

And with that, Tznear was off to see his first movie on Earth with his buddies. In an hour, he would be front row and center at Spacetanic, the epic saga of a cruise shuttle that hit a meteor in 2112.

And soon he saw it — 'Welcome to Earth — the heart of the solar system.' Just then, Mrs. Zednop pulled off the shuttleway and headed for a grocery store. 'Sit tight boys, and I'll get some snacks. I'm not paying those inflated snack bar prices for five little boys that each have three stomachs.' She soon returned with three colorful, shiny bags. 'Here you go, boys, Grandma Shearer's Caramel Corn Puffs. It's something earthlings call hullless popcorn. It's very light and you'll like it because it has a sweet caramel taste.'

As they walked into the theater, Tznear felt an elbow attack his ribs. 'Hey Tznear, isn't that Zizzy Bizdrup, that girl you like from school?'

Tznear blushed and shot a look back at his friends. 'I knew I shouldn't have told you guys.' Then much to his dismay, he heard his friend shout out, 'Hey Zizzy, over here!'

Before Tznear knew it, Zizzy and her girlfriend were sitting right next to them.

'What's in the bag, Tznear?' Zizzy shyly asked.

'It's, umm, Grandma Shearer's Carmel Corn Puffs. Do you want some?'

So Zizzy reached into the bag and popped some Carmel Corn Puffs in her mouth. She gazed into Tznear's eye and beamed a beautiful, one-toothed smile. And as the lights went down, Tznear felt Zizzy's seven, soft yet slimy fingers touch his.

Grandma Shearer's Carmel Corn Puffs ... perfect for your sweety's tooth."
Online store: Buy popcorn on Amazon #ad
Company: Shearer's
Categories for this snack:
This snack was discovered at Snaxpo.