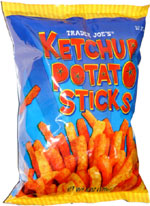 Shop for snacks: Buy snacks
Taste test: These are basically large, hollow, square-profile fries made from potato flour (as opposed to being cut from an actual potato), with a ketchup seasoning on them. Shapewise, they're a lot like Skinny Sticks, but all of the flavors of Skinny Sticks that I tried were far better than these. The Skinny Sticks were also crisp, whereas these were a bit stale. The weird part is that underneath the bright red ketchup seasoning, the various fries are actually three different colors (pinkish purple, green and pale yellow). I didn't notice the different colors at first; I just thought that different fries had different levels of ketchup seasoning. But after biting into one and taking a peek inside, it was clear that the inside was purplish. It's strange that they'd use such bright colors, then mostly cover them up. The potato taste was a bit off and sort of chemical-like, and the ketchup taste was OK but not great. Overall, acceptable, but I'd much rather have some good ketchup potato chips.
Shop: Buy snacks
Aroma: Ketchupy but a little strange. Not bad.
Manufacturer: Trader Joe's
Online store: Buy snacks
From the package: "This unique snack tastes like crispy french fries with ketchup! They are a potato-based snack covered with tomato seasoning, which gives them their distinctive look and feel. These crunchy sticks really dliver in terms of taste andtexture. Anybody who loves french fries with ketchup, which is most people, will find this snack totally irresistible and undeniably delicious."
This snack was discovered by Jeremy at Trader Joe's. Review published .