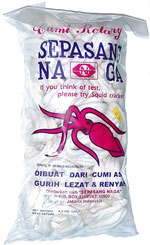 Snack Review
Sepasang Naga Squid Cracker
Taste test: Guest reviewer Andrew Lewman writes: This being my first-ever chip review, please forgive any technical, statistical and astrological errors that may be present in this review.
I had a need to test, and as the bag said, "If you think of test, please try squid cracker," so I complied. The initial odor is that of a 3-day-old fish market in a third world, or at least the section of the fish docks where the chum isn't even processed. Once you're over that, the rest of the chip isn't that bad. It comes looped together in deep-fried curls of 3 or more strands, which can only be assumed to be squid strands. The actual consistency is that of cheap styrofoam. And I mean cheap, as in not the high-quality foam used to protect electronic equipment; it's more the sytrofoam used to protect $2 Christmas ornaments.
The actual taste is that of dead fish, not really squid as the bag promises. It's also not the taste of say, dead grilled salmon, more like the dead fish that didn't make it into shore via net, but rather was carried in by the tide. That's about it. It tastes like dead fishy styrofoam.
However, the good part is that not only is this a meal, but a soup too! If you let the chip sit on your tongue, your saliva will break it down into a mushy, mealy consistency which harkens rotting dead fish. After eating at least 10 of these chips, I can say that it's more than I should have eaten. Apparently the advertising on the bag about the "test" is to see if you survive eating these chips.
Shop: Buy snacks on Amazon #ad
Smell test: Like a 3-day-old-fish market in a third world
From the package: "If you think of test, please try squid cracker" ... "Dubuat dari cumi asli gurih lezat & renyah" (Translation, courtesy of Mark Thornburg: "Made from authentic, delicious delicious crispy squid." According to Mark, "lezat" means delicious as we generally know it, and "gurih" carries the connotation of being "deliciously salty and oily.")
Online store: Buy snacks on Amazon #ad
Company: Sepasang Naga (Indonesia)
Categories for this snack:
Trivia: "Sepasang Naga" is Indonesian/Malay for "A pair of dragons"
This snack was discovered by Jeremy at Wing Phat Supermarket & Mini-Mall, Philadelphia.