Living History: Krispy Kreme finally opens in Boston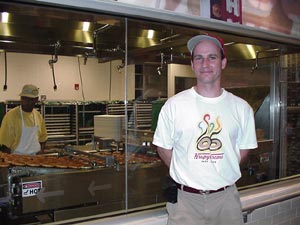 We arrive at Medford's Wellington Circle at 11:30 a.m. The uniformed woman in the overflow parking lot should be excused for her excess since, along with the excitement, there is a distinctively sweet and intoxicating aroma in the air.
"Have a good time," the Krispy Kreme-attired parking lot helper says. "It's the experience of your life."
It sounds nice but comes out a bit contrived. Even I would have had trouble saying that convincingly.
Much better was the unforced sentiment 30 minutes later of a sugarglaze-plastered 5-year old Jacob D. who happily explained, "The special thing about Krispy Kreme is that you get to lick your fingers!"
The line to get in the door measures close to 80 people. Those in line hear their silent thoughts exuberantly articulated by a skyblue-outfitted cheerleading group, the Bay State All Stars from Millbury, Mass., who whip through a spirited cheer that ends:
"…Krispy Kreme doughnuts fresh every day,
Krispy Kreme Doughnuts YAY!"
Beefy fellows toss twiggy gals high in the air and the crowd applauds the acrobatics, the sentiment, and their own building excitement. It's likely the cheer is intended only for this single day, but the All Stars might consider adding it to their repertoire since it is bound to electrify a crowd.
The line to enter the store snakes past the cheerleaders, past a young fife and drum corps and through a tent full of logoed and colorful t-shirts ($12), toy trucks, alarm clocks, boxer shorts and sweatshirts ($39). As the line shuffles slowly by one table, smooth sales fellows from Sprint demonstrate the coolness quotient of their new picture-taking cell phone. At that moment most in this captive audience are as interested in buying new gadgety photophones as they are in buying a Dunkin' Donut.
Finally the line moves ahead, out of the merchandise tent and tantilizingly close to the door into nirvana. At the door a strategically-placed Krispy Kreme employee hands out paper hats (the same ones that hopeless boneheads attempt to sell on eBay for a dollar) and ask us to wait just another minute or two to keep from overcrowding the inside. Those astute Krispy Kremers think of everything: combine a subtle way to tweak everyone's anticipation one more time with a bit of crowd control.
The doors open, and the next group of eager acolytes enter, a little giddy at finally arriving. Everyone is grateful now for that last bit of crowd control because there is room and time enough for everyone to press up against the inside windows and see the wonderful lifts, rollers, flippers, guiders, trundles, conveyors and the final glaze waterfall that all together constitute the contraption making the confections before our eyes. Adults smile, kids squeal.
Behind the rounded counter you can count — is it 30? no, 40, no wait maybe 50(!) — employees scurrying and hopping, but not in a frantic way. How do you train a staff to stay unfrazzled and cool while dealing with swamping waves of people ordering everything in the store? Farther ahead you can see people exiting the shop with their purchases: dozens and dozens and dozens of doughnuts.
Nicholas Janikies stands off to the side. The man, who (as head of the Jan Co.) brought Krispy Kreme to New England, observes the hubbub, watches his bustling (but not frantic) staff and perhaps calculates the profit margin on each dozen sold. One parent who recognizes Janikies whispers to their child to approach the tall, well-dressed gentleman and say "Thank you Mr. Janikies." But before the youngster can do so Janikies huddles with some other businessmen wearing shirts and ties. The child turns his attention back to the conveyors of airy confections, more fascinated by the apparatus than by a businessman.
One more surprise waits ahead. A smiling uniformed employee (they all smile here – it's either the sugar or the hip shirts) stands in the midst of the conveyor picking up piping-hot doughnuts with paper napkins. She hands out a free gossamer-sweet doughnut to anyone who wants one, passing them out to surprised and enthusiastic patrons, some of whom have hoped, ached, pined, hankered and dreamed about this moment for years.

NEXT: Out of Business