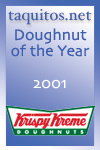 In 1933, Vernon Rudolph, the founder of Krispy Kreme, bought a doughnut shop in Paducah, Kentucky, from a French chef from New Orleans. Along with the shop, he received the chef's secret recipe for yeast-raised doughnuts.

Early in the summer of 1937, Rudolph moved to Winston-Salem, North Carolina, rented a building across from Salem College and Academy, and on July 13, 1937, using that original recipe, the first Krispy Kreme doughnuts were made. Rudolph's first customers were local grocery stores, but people began to stop by the store asking if they could buy hot doughnuts.

Rudolph opened the shop for retail business by cutting a hole in the shop's wall and selling them out this new window.
This extemporaneous carpentry was the origin of Krispy Kreme's modern-day window service.
Sixty-four years later, on the anniversary of the first shop opening, we salute Mr. Rudolph, his vision and that magical unnamed French chef and bestow Krispy Kreme with the Taquitos.net First Annual Doughnut of the Year Award.