Last summer, I traveled from Boston to the Southwest. Highlights of the trip included hiking in Zion Canyon, the Grand Canyon and Red Rock Canyon, gambling in Las Vegas and experiencing Star Trek: The Experience four times. Oh yeah, I also bought some chips.
---
Cambridge, Massachusetts
REVIEWS OF SNACKS BOUGHT HERE
Friday morning, 11 a.m.
Figuring that United won't be serving much in the way of food on the flight to Chicago, I make myself a very early lunch — three taquitos with Frontera Spring Break Salsa — before leaving for Logan Airport.
A Delicious Start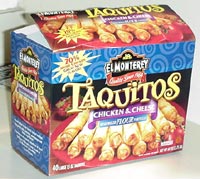 ---
United Airlines
REVIEWS OF SNACKS BOUGHT HERE
Friday afternoon, enroute from Boston to Chicago
United serves a small snack, containing one "Eli's Chicago's Finest Cheesecake Just the Crust Chocolate Chip Cookie" along with a beverage. It's OK, but not much to eat for a 2-hour flight.
Grabbing A Bite

Medium fries from McDonald's ($1.55).
Dean's Chocolate Milk Chug from a sandwich stand ($1.85 plus 18 cents tax, expensive but good).
I take a look at what Cinnabon has to offer and think seriously about making a purchase, but opt not to get anything.
Realizing I hadn't eaten very much, a few minutes before the flight to Vegas boards, I get a Chicago Style Hot Dog with a 1-7/8 oz. bag of Vitner's Sweet Baby Ray's BBQ Potato Chips. The combination cost me $4.05. I eat the hot dog (good, with lots of condiments) and save the chips for review later.
---
Friday late afternoon, on the ground in Chicago, waiting for plane to take off for Las Vegas
After boarding the plane but before takeoff, I sit taking notes on my Handspring Visor on what I've eaten so far. The woman seated next to me starts to stare.

"Would you mind telling me what you're doing?" she asks. I look up. "Is that a game or something?"

"It's a PalmPilot," I tell her. "You can take notes on it."

"You're just too far ahead of me with the technology," she says.

The airplane passes a sign on the runway: "Check compass extreme magnetic deviation possible." That doesn't sound promising.
---
United Airlines
REVIEWS OF SNACKS BOUGHT HERE
Friday afternoon, just before 3 o'clock Las Vegas time
The first announcement after takeoff from Chicago is "Ladies and gentlemen, on this flight we will have a snack service accompanied by a beverage of your choice." Woo-hoo!

Done taking notes on what I've eaten so far, I open up United's in-flight magazine "Hemisphere" and find an article about the food choices at Newark Airport. According to the article, highlights include the Garden Street Diner, a "sprawling" food court, and Dick Clark's American Grandstand Grille, "where burgers, nachos, and sandwiches are all served with a classic rock accompaniment."
---
Enroute from Chicago to Las Vegas, 3:16 p.m. Las Vegas time
The in-flight movie "Monsters, Inc." is starting, so I reach into the seat pocket to get the headphones. Along with the headphones, I find the discarded wrapper from a bag of King Nut Co.'s Summer Harvest Party Mix.
---
Enroute from Chicago to Las Vegas, 3:24 p.m. Las Vegas time
Eight minutes into "Monsters, Inc." I get confused because I can't understand what any of the monsters are saying, and then I realize that I've been listening to the Spanish audio track (channel 10). I change the channel.
---
Enroute from Chicago to Las Vegas, 3:46 p.m. Las Vegas time
A flight attendant hands me a United snack box. It says "Official airline sponsor of the Taste of Chicago." Contents are:
Another Eli's Finest Cheesecake Just the Crust Chocolate Chip Cookie
An Eli's Finest Cheesecake Just the Crust Shortbread Cookie
A smoked ham & swiss sandwich
Kitchen Freshhh Cole Slaw (made by Ozark Salad Co., Baxter Springs, Kansas)
A packet of Hellmann's Dijonaise
A spork
---
Enroute from Chicago to Las Vegas, 3:56 p.m. Las Vegas time
Flight attendant offers me a second beverage. I decline.
---
Enroute from Chicago to Las Vegas, 4:49 p.m. Las Vegas time
The flight attendant takes away my finished snack box.
---
Las Vegas
REVIEWS OF SNACKS BOUGHT HERE
Friday evening, just before sunset
After landing in Las Vegas, the first thing I notice is the slot machines, which are spaced about an inch apart throughout the airport. After picking up my rental car, I hit the road, passing the fabulous Strip on the way to Interstate 15, which I will follow most of the way as I head toward Zion National Park.

The thermometer in my rental Mercury Cougar says it's 102 degree outside.
---
Mobil convience store at Exit 4 off Interstate 15 near Las Vegas
Friday, just after sunset
Thirsty, I pull off Interstate 15 at Exit 4 to get a beverage and check out the chips at the Mobil convenience store. Good news: There are a few chip varieties that I haven't seen before. Better news: They have a special promotion: a 32-oz. fountain drink and a bag of chips for $1.69. That seems like a good deal, and a good excuse to start early on my chip buying. Bad news: They're all out of caps for the 32-oz. cups. I get a 44-oz. drink instead. And since, through no fault of my own, the special offer to get some discounted chips doesn't apply if I want to have any hope of not spilling Hawaiian Punch all over the rental car, I choose not to buy any chips.
---
St. George, Utah
Friday night, 10 p.m. Utah time
Realizing I've barely eaten since Chicago, I pull off the road at the Flying J Travel Plaza, which is a combination convenience store/Burger King. I get a Dean's Lowfat Chocolate Milk Chug at the store, and I order a Big Fish at the BK. The sandwich is surprisingly good, but it takes them forever to get it to me, as the counter guy seems preoccupied with serving drive-through customers. But the conversations I overhear fascinate me. Personally, I've never, ever heard of a Burger King serving tacos (and tacos are nowhere to be seen on the menu) but every single walk-up customer other than me and every car at the drive-through asks the counter guy, "Do you have tacos?" which leaves me feeling like I've escaped to some sort of parallel universe where Burger King sells tacos and Taco Bell sells burgers.
Lowfat Milk Chug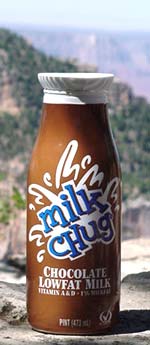 ---
Zion National Park
Saturday, daybreak
Taking advantage of the time zone change, I wake up before sunrise and go for a run through a deserted Zion Canyon, getting my first glimpse of the amazing formations of this leg of the Grand Staircase. Before I even reach the Zion scenic road, I encounter a deer meandering around the front of the lodge. I spot another deer during my run.

After the run, I purchase some PowerBars and Gatorade at the Zion Lodge's gift shop.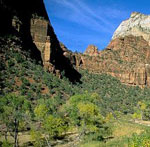 ---
Outside Moqui Cave on Route 89 in southern Utah
Saturday afternoon
Driving south on a road through the middle of nowhere, enroute from Zion to the North Rim of the Grand Canyon, I see a makeshift road sign and can't believe my eyes.
For Real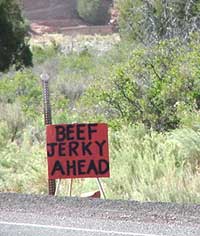 Get Your Beef Jerky Here!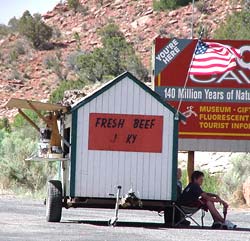 ---
Kanab, Utah
REVIEWS OF SNACKS BOUGHT HERE
Saturday, late afternoon
After many miles of pretty much nothing to see except beautiful scenery, I stop for gas in Kabab, Utah, which is where Route 89 and Route 89A intersect. I buy some snacks and chocolate milk at the little store next to the gas station.
---
North Rim of the Grand Canyon
Saturday night through Monday morning
Starting at 5 a.m. Sunday morning, I hike down the Grand Canyon's North Kaibab Trail to Cottonwood Campground, starting at an elevation of 8000 feet and finishing at about 4000. Going down is not very hard. I brought plenty of snacks, water and Gatorade and had packed clothing for all conditions. Going back up ends up being the most exhausting hike I've ever done. The last couple of thousand feet of climbing are particularly tough.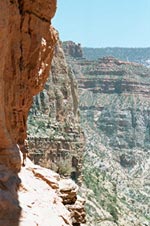 ---
Fredonia, Arizona
REVIEWS OF SNACKS BOUGHT HERE
Monday, about 1 p.m. Arizona time
On the road back to Vegas, I stop in Fredonia to get gas. While I'm there, I check out two convenience stores and buy two bags of chips.
---
Pipe Spring National Monument
Monday afternoon
The obscure Pipe Spring National Monument isn't on my original itinerary, but I already shelled out $50 for a National Parks Pass back at Zion, so I want to get my money's worth and stop at every national park I can. Pipe Spring isn't all that exciting, but it is right off the road, so taking a tour of Winsor Castle doesn't cost me too much time.

Right next door to Pipe Spring is a Mobil gas station/convenience store owned by the Kaibab Paiute Indian tribe. I buy a Country Time lemonade and a small can of Pizza-licious Pringles. Just after I pull back onto the road, headed west toward Vegas, I pass a Frito-Lay truck driving the other way. I don't know whether the driver notices that I'm eating rival snack Pringles.
---
Las Vegas
REVIEWS OF SNACKS BOUGHT HERE
Monday afternoon
Finally back in Vegas, I meet up with fellow chip hunters Keith and Melissa at the rental car return place. First stop is the 7-Eleven, where we check out the chips and purchase some hot-off-the-rollers Go-Go Taquitos.
A Celebration of Taquitos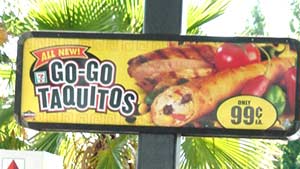 ---
Monday evening
We arrive at the Las Vegas Hilton, and after settling in, we play a few nickel slots and check out some of the lobby stores. I am appalled to see that bags of chips have been marked up from the prices that Frito-Lay has printed on the bags — a phenomenon that I've never seen before, but apparently is typical for Vegas.

Next is dinner at Benihana. What more can I say? Well, if you really do want to know more, see our Questions About Benihana.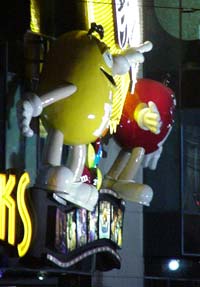 ---
Raley's, 3864 West Sahara Ave., Las Vegas
REVIEWS OF SNACKS BOUGHT HERE
Thursday, 8 a.m.
With an early morning start, we drive off toward Red Rock Canyon. On the way, we stop to look for chips.
---
Red Rock Canyon
Thursday morning.
A Great Escape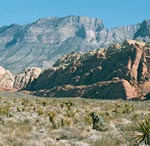 ---
Smith's, 9851 W. Charleston, Las Vegas
REVIEWS OF SNACKS BOUGHT HERE
Thursday, Noon
On the way back from Red Rock, we stop at another supermarket to check out the chips. Jackpot.
---
Las Vegas
REVIEWS OF SNACKS BOUGHT HERE
Thursday afternoon
I purchase a cardboard box at the Las Vegas Hilton's Business Center for $6.50 plus 47 cents tax to bring all of the chips back home in.
---
Denver Airport
REVIEWS OF SNACKS BOUGHT HERE
Friday, noon
Changing planes in Denver is the perfect opportunity to buy more snacks. In addition to three bags of overpriced Boulder Potato Chips, I even buy a single-serve Nesquik at Wolfgang Puck's (a pricey $1.89).