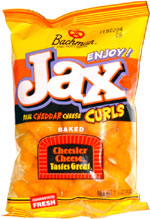 Why: These are the standard by which all other cheese puffs are judged. Cheetos are the crunchy standard, but their cheese puffs are not as good as Jax. Jax has the right amount of cheese flavoring and a good crunch, and a good "curl" as well. Plus there's always a good amount of orange stuff on your hands for a second taste treat.
Categories: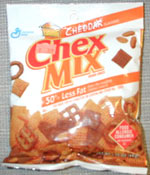 Why: Currently my favorite "mix" type of snack, the cheddar flavor on the Chex pieces make this highly addicting. The only problem is that the peanuts always fall to the bottom of the bag, so you don't get them until you finish.
Categories: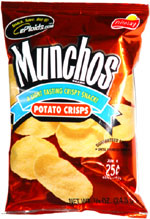 Why: After a hiatus, these are back on my list. There's something about these "crisps" that I really like. Science experiment: The bowl shape of these chips give you the chance to dip these in your favorite cola. Make sure you eat them quickly after you dip, to avoid dripping.
Categories: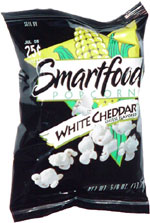 Why: The original recipe, which is now represented by Annie's White Cheddar Popcorn, isn't widely available, so this makes this list. Check out the other list (Top 10 tasted here or local) for that one. Still, Smartfood was the label that redefined cheese popcorn from the orange variety to the now standard white cheddar.
Categories:

Why: In a pinch, you can eat a ton of these with a handful. I'm not too keen on the current Pringles marketing campaign (I'm not big on going to raves), but still like these nonetheless. Another great chip to dip in cola.
Categories: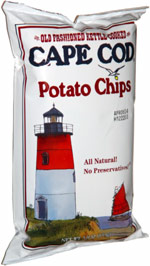 Why: This may not be widely available in all parts of the U.S., but it's distributed enough to be included on this list. These chips were my introduction to the world of the kettle chip, and I haven't found a kettle chip variety or brand that has been able to top these.
Categories: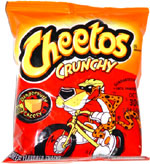 Why: I've discovered Cheetos clones that are crunchier and cheesier (see other list), but for the widely available list, these are the cheese curls by which all other cheese curls are judged. The original ones are much better than the X's and O's or Zigzag variety.
Categories: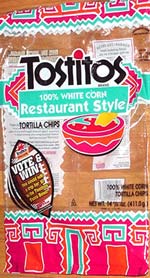 Why: For the love of Pete, if you're going to have nachos, you must use these chips. Accept no substitutes.
Categories: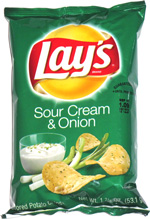 Why: Back in my youth, I could polish off a whole bag of these in one sitting. Strangely addicting chip. Of course, I'm a bit older now and know better about eating an entire bag of chips at once. Still, whenever I open one of these bags, it takes me back.
Categories: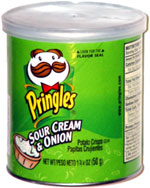 Why: My current favorite, it's extremely hard not to put a way a can of these in one afternoon. Truly, the phrase, "once you pop you can't stop" applies to these chips. For an extra taste thrill, lick the powder off the chip before crunching. Mmmmmm ...
Categories: