When Krispy Kreme announced that it was expanding into New England, it was big news. This is home turf for Dunkin' Donuts, and lots of people in the Boston area wouldn't know Krispy Kreme Doughnuts from crispy cream (or creme) donuts, but the KK mystique has at least begun to spread to these parts.

The first Massachusetts location opened June 24, 2003, at Wellington Circle in Medford (pronounced "Meffa" around here, and already home to eleven Dunkin' Donuts stores). Below is a chronicle of my attempt to attend the opening ceremony for the temporary mobile Krispy Kreme that came to Medford for four days, along with an ongoing look at the building of the fabulous permanent store.
---
Wellington Circle, Medford, Massachusetts
December 11, 2002, about 10:10 a.m.
My obstructed view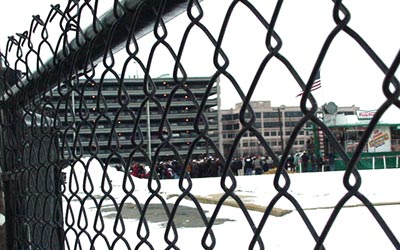 "To the Krispy Kreme event," I said, pointing.
"For what purpose?" the officer asked.
That threw me for a loop, as I hadn't expected a question like that at all.
My lame answer — "Ummm ... to get doughnuts?" — apparently was the wrong one, as the policeman told me that it was closed to the public until 11 a.m. and I had to leave.
From Afar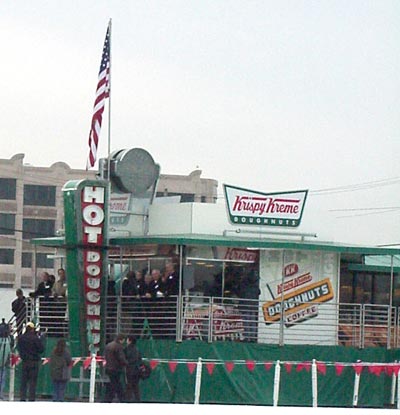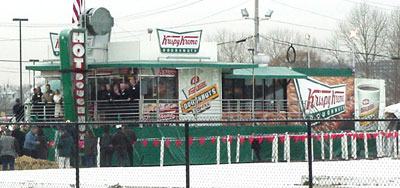 Meanwhile, across the street ...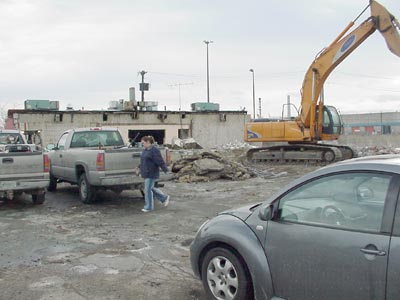 ---
Everett, Massachusetts
10:30 a.m.
Actual Donuts!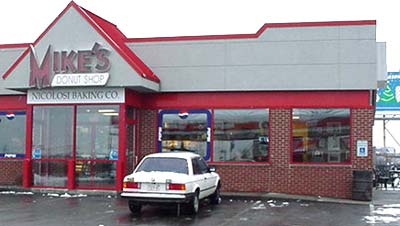 ---
Wellington Circle, Medford, Massachusetts
January 4, 2003
I returned several weeks later to check on the progress of Krispy Kreme's first Massachusetts store. Best I could tell, there hadn't been any.
Not Much to See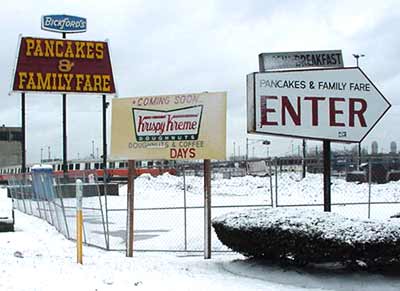 Uhh ... when?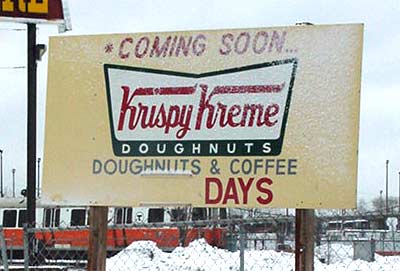 ---
March 1, 2003
After months of no progress at all, it appears that we may finally be moving ever so slowly toward doughnut heaven. Not much to see, but they're pouring a foundation.
Finally, a foundation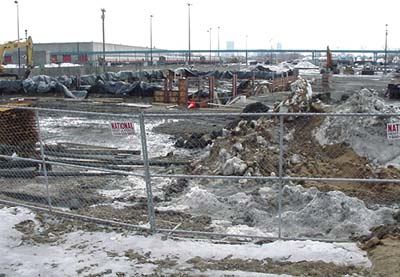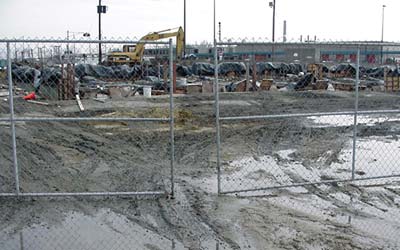 ---
March 23
Finally some above-ground pieces of an actual building — walls!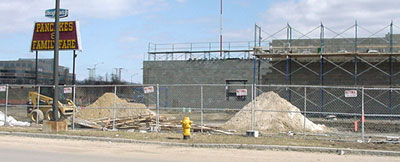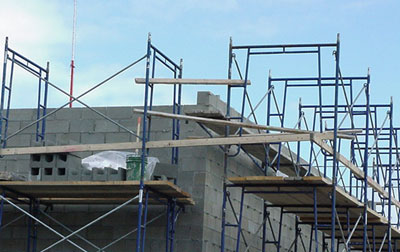 The walls have gotten higher ...




Another week, another wall ...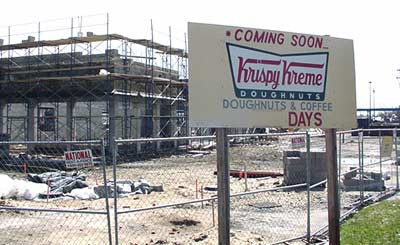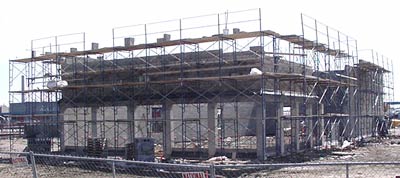 ---
April 20, 2003
No huge progress this time, but it looks like the walls have gotten higher.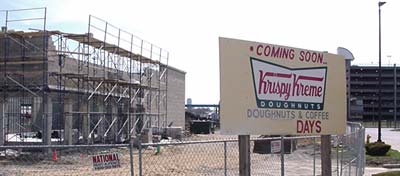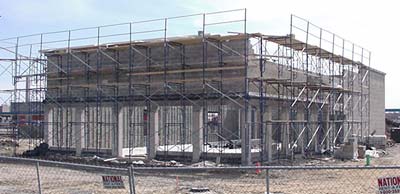 ---
May 17, 2003
After a few weeks without visiting Medford, I returned to find that the cinderblocks had been covered with red bricks, giving at least the appearance of great progress toward actual doughnuts.


---
June 8
Things were really starting to take shape. They finally started posting a real daily countdown, the chain link fence was gone, some preliminary landscaping had taken place. And most notably, there were construction workers present on a Saturday, so you can tell that they were getting serious about building a very serious doughnut shop.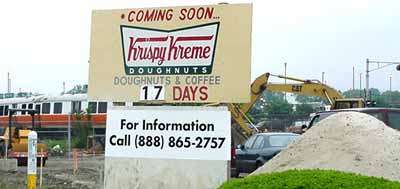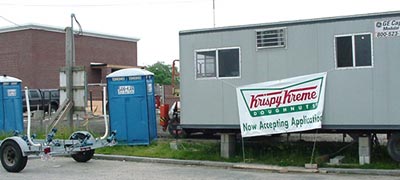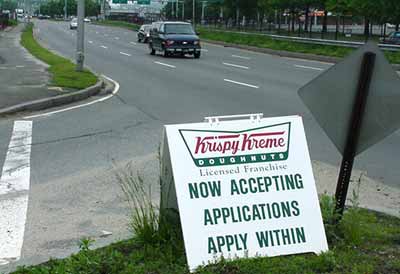 ---
June 22, 2003
On this rainy Sunday, just two days short of Opening Day, the store looked complete. The huge road sign had magically appeared, landscaping was done, and inside, it looked like an actual functional doughnut shop, except that there was nobody inside.