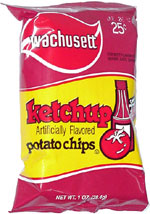 Why: The chip that started it all for Taquitos.net. After tasting other ketchup chips, this is the one that I like the most. The standard by which all other ketchup chips are judged. (Available mostly in Central Massachusetts.)
Categories: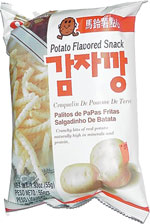 Why: I can't remember where or who got these, but the fact they look and taste like French Fries makes me want more. We definitely ate through this bag quickly.
Categories: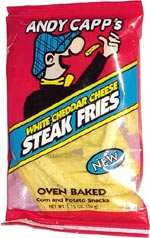 Why: I don't know if these chips made it past the "experiment" phase into a wider release, but these fries definitely outclass their cheddar variety. The thicker cut of the chip enhances the flavor.
Categories: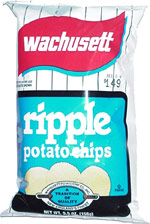 Why: Again, only available in Massachusetts, these ripple chips are just like Ruffles, only cheaper. Now that Ruffles widened their ridges, this becomes my favorite ripple chips. Tighter ripples make a better chip.
Categories: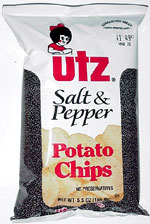 Why: The world's best salt & pepper chip that I've tasted so far. The thin style of the chip and the pepper complement each other perfectly. Other salt & pepper chips are good, but this one takes the prize for me. I can eat a whole bag of these without stopping for air.
Categories: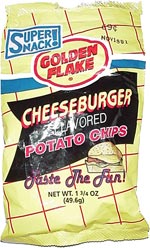 Why: We found these in Florida, so they may be available in the South. They definitely have a burger-type taste, we couldn't get Stewart to stop eating them.
Categories: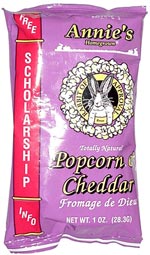 Why: The last time I was in Washington I was honored to eat a bag of these. This popcorn apparently was the original Smartfood recipe before Frito-Lay changed the recipe. You will not be able to stop eating this once you start.
Categories: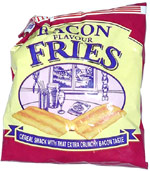 Why: The best bacon-flavor crisp we've tasted from any of our England excursions. The fact that they're shaped and look like bacon strips only helps.
Categories: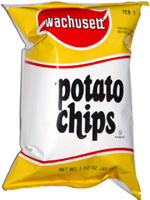 Why: The best plain potato chip available in Massachusetts. And they're less expensive than Lays.
Categories: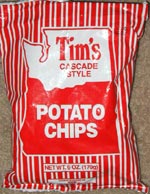 Why: The best plain potato chip in the Pacific Northwest (and we've seen it in Las Vegas, too). If you have Tim's chips available in your grocery store, buy them. The best-tasting chip I've ever had.
Categories: