Taco Town rules!
By Jeremy Selwyn
Chief Snacks Officer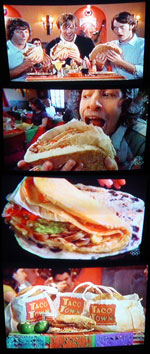 10.08.2005
This week's Saturday Night Live (Oct. 8, 2005, the one with Ashlee Simpson not getting caught lip-syncing) had an ad for Taco Town's new multi-layer creation. Here's how they make it:
Start with a crunchy all-beef taco smothered in nacho cheese, lettuce, tomato and our special southwestern sauce.
Wrap it in a soft flour tortilla with a layer of refried beans in between.
Wrap that in a savory corn tortilla with a midlle layer of monterey jack cheese.
Take a deep-fried gordita shell, smear on a layer of our special guacamolito sauce, and wrap that around the outside.
Bake it in a corn husk filled with pico de gallo, then wrap that in an authentic Parisian crepe, filled with egg, gruyere, merguez sausage and portabello mushrooms.
Wrap the whole thing in a Chicago-style deep dish meat-lover's pizza.
Roll it up in a blueberry panacke, dip it in batter, and deep fry until it's golden brown.
Serve it in commemorative tote bag filled with spicy vegetarian chili.
The unfortunate thing here is that Taco Town is just a fictional fast-food chain. Lately it seems like most of the fast-food chains are spending all their effort counting calories and adding more salads and fruit cups to their menus, rather than making a bold decision to create something truly tasty like Taco Town has.
Bravo, Taco Town!