Get a close-up look at Dunder Mifflin's vending machine
By Melissa Shaw
Senior Reviews Editor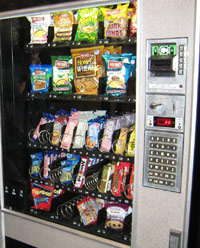 The 'Office' snack machine
03.02.2007
Just like Taquitos.net, NBC's hit sitcom "The Office" is serious about snacks.
The B story in this season's episode "Grief Counseling" centered around Jim trying to track down a bag of Herr's Salt & Vinegar chips. We can't blame Jim, those chips are delicious.
And if you get a quick peek at the vending machine in the breakroom at Dunder Mifflin's Scranton (Snacksylvania) branch during the show, you'll see it's stocked with local chip icon, Herr's.
Jennie Tan, creator of Office fan site OfficeTally.com, got to visit the set this week and took a sweet, up-close picture of the breakroom vending machine.
Wonder what they're eating at Dunder Mifflin? Lots of Herr's. And some Doritos-bag-looking thing called Torpedoes (bottom row, left).