Why Smucker's Goober Grape Rocks!
By Keith Shaw
Secretary of Snacks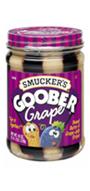 Goober Grape Jar
10.01.2005
For those who haven't seen this product, the Smucker's Goober Grape product basically jams some peanut butter and jelly (either grape or strawberry) into one jar. The effect is pretty cool, since they put it in a nice striped pattern that reminds you of a hot fudge sundae (digging down into the jar for the extra cache of hot fudge).
The idea is that lazy people can't be bothered with opening two jars in order to create a PB&J sandwich, so Goober Grape reduces that time in half. Modern technology at its finest.
At first I was hesitant to try this, as I'm pretty picky about the peanut butter I ingest (we could debate long hours about how Peter Pan peanut butter kicks Jif or Skippy any day of the week, but here is neither the time nor place for such a debate). I was pretty sure that Smucker's makes a decent jelly, but wasn't too confident about their peanut butter.
A trip to Hawaii changed that, as we were in a grocery store looking for food items to buy that we could eat in our condo time-share kitchen that we wouldn't waste. The smallest jars of peanut butter and jelly we found were normal sized, so we opted for the Goober Grape to save us from buying (and wasting) two jars.
After a week of Goober Grape sandwiches (toasted bread, the only way to eat PB&J), I was convinced that Smucker's did a good job with the peanut butter. Not as good as Peter Pan, but good nonetheless.
The key to eating this is not to look at the sandwich too much — the peanut butter tends to overpower the jelly part when you're spreading it, and creates this weird color of jelly-colored peanut butter. Fortunately, when you put the two bread pieces together you don't have to look at it.
It tastes the same, and you've saved enough time by not only using one jar, but one knife as well.
We've heard of other "peanut butter and X" combinations being sold in jars (peanut butter and chocolate, for example), but nothing is working as well at the moment as peanut butter and jelly. If the people who make Marshmallow Fluff ever decide to make a jar with peanut butter and Fluff, I'm in.