Oscar Mayer Lunchables Tacos add the Pop Rocks factor
By Jeremy Selwyn
Chief Snacks Officer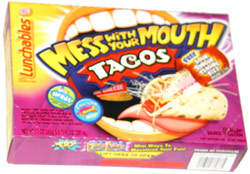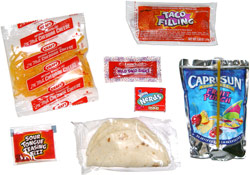 08.20.2006
I'm an adventurous eater. But when I'm at the supermarket, there are some items that I can hardly believe that they make, let alone actually consider buying. Lunchables Mess With Your Mouth Tacos would definitely fall into this category.
This afternoon at the Stop & Shop, a confluence of factors resulted in me getting these and proceeding to eat them for lunch. (Earlier the same day, I had watched The Phantom Gourmet's show on guilty pleasures. In addition, I hadn't eaten lunch yet and was thinking that that I should pick up something for when I got home. Plus, they were on sale for just $1.67. Also, I really like tacos.)
The box consisted of three round, smallish, fairly thick, pre-folded flour tortillas; a ketchup-size tube of Mild Taco Sauce; a larger tube of of Taco Filling; a bag of Kraft 2% Milk Natural Reduced Fat Cheddar Cheese Shreds; a packet of Sour Tongue Teasing Fizz seasoning; a small box of Nerds; and a pouch of Capri Sun Fruit Punch.
Before discussing the taste, I must say, that's a lot of stuff for $1.67.
The tacos were certainly not up to the standard of good tacos, but as packaged food goes, they were actually not bad. The taco meat packet didn't have a ground beef consistency; the mixture of beef, tomato and spices was pureed together into kind of a uniform paste. The Mild Taco Sauce was kind of bland, and since the meat sauce already had tomato and spices in it, it seemed kind of pointless, since they could have just included it in there. But when you combined the meat, the sauce, the cheese and the tortillas, the taste was not bad. Definitely on the sweet side for tacos, but they're aiming these at kids. I didn't try adding the Sour Tongue Teasing Fizz to the first two tacos.
As for proportions, Oscar Mayer really got it wrong. There was about the right amount of meat stuff for three tacos, but there was not nearly enough of the taco sauce, and there was way too much cheese. I would sugest doubling the amount of sauce and halving the amount of cheese.
For the third taco, I put a generous amount of Sour Tongue Teasing Fizz (which I assume is the active ingredient in Pop Rocks) on top of the meat stuff before applying the sauce and cheese. I could immediately hear the popping inside the taco, but upon biting in, I couldn't feel any in my mouth. When I dipped the end of the taco directly into some of the remaining Sour Tongue Teasing Fizz powder, I could feel some popping. But not much, and it didn't seem all that cool.
I recently reviewed Cadbury's Crunchie Blast, a candy bar containing Pop Rocks, and the effect was quite impressive in that case. But it didn't do much for me here.