Barber Foods offers Chicken Sticks with Potato Chip Breading
By Jeremy Selwyn
Chief Snacks Officer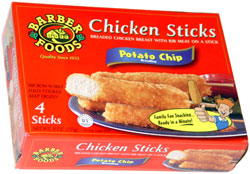 04.24.2006
Normally, I would not have bought this box of Barber Foods Chicken Sticks. But when I spotted it in the frozen aisle at my local Star Market, the words "Potato Chip Breading" jumped out from the box and told me that I had no choice but to buy it.
The box contained four breaded chicken strips, each mounted on a wooden stick. I figured that the Potato Chip Breading would add the deliciousness of potato chips to the chicken sticks. The front of the box promised "Family Fun Snacking ... Ready in a Minute!" but that turned out to be only if you follow the microwave directions, which specify 45-60 seconds on high. For a conventional oven or toaster oven, Barber Foods recommends a preheated 400 degree oven for 14-18 minutes
I wasn't starving or anything, and I wanted to compare both methods, so I put one stick into a preheated 400 degree oven, and the other in the microwave for 60 seconds.
After 60 seconds, the side of the stick facing the plate was hot, but the top was not, so I flipped it and nuked it for an extra 20 seconds. The microwaved breading was kind of soggy. It smelled very slightly like potatoes, but not like potato chips. The chicken was very moist and tasted good. The light breading had a very slight potato taste, sort of like potato pancakes, but again nothing like potato chips, and the slight potato taste was far overwhelmed by the chicken taste. I dipped it into Frank's Buffalo Style Hot Sauce, which made it taste even better.
The oven-cooked version was better, with all of the taste and none of the sogginess. It took a little longer than the recommended time (about 20 minutes total) so it's really a judgment call whether it's worth it to nuke or not.
All in all, these were good chicken sticks, but my whole reason for buying them was that I wanted them to taste like potato chips. They didn't. So when I'm craving potato chips, I'll have to stick to eating potato chips.