Who'da thunk that this would taste so good?
By Keith Shaw
Secretary of Snacks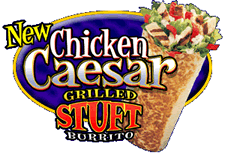 03.16.2006
Despite the really horrible commercials from Taco Bell advertising their new Chicken Caesar Grilled Stuft Burrito (the lame toga jokes in particular), I decided to order one on a recent trip to the local KFC/Taco Bell. I even passed up the Crunchwrap Supreme to try it, mainly because its combo meal included a small order of nachos, instead of the extra taco in the Crunchwrap combo meal.
The CCGSB is basically a chicken caesar salad wrapped up in a burrito shape and then grilled. It includes marinated grilled chicken, romaine lettuce, caesar dressing, and instead of croutons, there are red tortilla chip strips.
I was a bit wary about ordering it, as previous Taco Bell chicken entrees have been horrible — I've never liked their grilled chicken, but perhaps they had changed their recipe enough for me to actually try it again. In the case of the CCGSB, the grilled chicken was actually flavorful and a bit spicy, which added to the overall taste. (It wasn't just plain chicken. The marinade actually enhanced the burrito.) I didn't miss the croutons either, as the tortilla chips gave it plenty of crunch. In fact, I would have taken my extra nacho chips and tried to squeeze them in there, had TB not already made it part of the recipe. The chicken and the grilling cause this to be a warm sandwhich, another bonus since I usually get turned off by chicken caesar salads where the chicken is cold.
Like the Crunchwrap Supreme, the CCGSB is large enough that you don't need to order anything else in order to be filled. I had one for lunch and skipped dinner. Maybe it was the small order of nachos that made the difference.
Taco Bell has another hit. If you love chicken caesar salads and want something with a southwestern kick (it's tough to refer to Taco Bell as a Mexican restaurant), you won't go wrong with the CCGSB.