Get yours before they go!
By Keith Shaw
Secretary of Snacks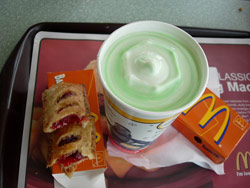 03.06.2006
Late winter is a great time to go to McDonald's, if only to sample the limited-time menu items known as the Cherry Pie and the Shamrock Shake.
Back in the '70s, McDonald's carried the Cherry Pie and the Apple Pie year-round, but for some reason they dropped the cherry pie to limited status. (Boo, Golden Arches!) Since then, I've only been able to partake in the cherry pie goodness around February and March (or until individual restaurants run out of them).
The other major change in the pies is that they went from being deep fried to "baked." In the '70s — a great time to be alive in the fast-food era, when nobody cared about nutrition — the pies had a batter-fried crust, kind of like the batter on a Chicken McNugget. In addition, there were no vents, which meant the filling inside was as hot as liquid magma from a volcano. In fact, there were plenty of warnings on the outside of the box of a cherry or apple pie warning customers that, in fact, their tongues might explode if they didn't heed the warning, "Caution: Filling is Hot!" That's probably one reason why they changed the design of the pies from fried to baked, as the new pie has cooling vents that let the heat from the filling escape. (Although the filling is still hot, it's not nuclear hot like before.)
Still, the joys of the cherry pie filling and cherries make this a good dessert option at McDonald's, if you're sick of their sundaes (which never have enough hot fudge or caramel, but that's an item for a different day) or the cookies. Even baked, the cherry pie is awesome, so it saddens me that it's about to run out and I'll have to wait another year for it to come back.
Another limited item is the Shamrock Shake, a mint green offering that always comes out around St. Patrick's Day. I suppose it's better than not having a Shamrock Shake at all. But here's our hint to McDonald's, if they're considering reformulating the Shamrock: Mint + Chocolate = Delicious.