MooBella, we think we love you
By Keith Shaw
Secretary of Snacks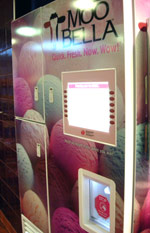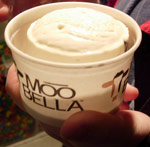 02.24.2006
The world of vending machines got a little bit sweeter recently with the official launch of the MooBella Ice Cream System. The machine creates a freshly made scoop of premium or light ice cream (hard-packed, not soft-serve), with a choice of mix-ins such as chocolate chips, chocolate candies (aka M&M's) or crushed chocolate cookies (aka Oreos). After choosing your flavor combination, the machine instantly mixes the flavors, aerates the ice cream, flash-freezes it and puts the scoop into your cup. Unfortunately, you can't see all of this being done. All you have to do is choose the flavor and put the cup into the machine.
There's a machine at the cafeteria at Children's Hospital in Boston (MooBella is based in Taunton, Mass.), and we got our own scoop of vanilla and chocolate chip mix-ins for $2.25. The machine doesn't take money, so it's geared towards cafeterias where you grab all of your food and then pay a cashier.
You might think that eating one scoop of ice cream won't fill you up, but in this case it did. Having fresh ice cream is much better than ice cream that has been sitting in a freezer for who knows how long.
The best part of the MooBella experience is that you can get good ice cream and mix-ins without having to hear someone sing while they're making the ice cream. (Yes, we're talking about you, Cold Stone Creamery.)
The company recently attended the DEMO conference to launch the product officially, and I was actually fortunate enough to be there to witness the launch and make a video (as part of my "real" job). Take a look at this video to learn more about the MooBella machine.