Will Nestle respond to my complaint?
By Keith Shaw
Secretary of Snacks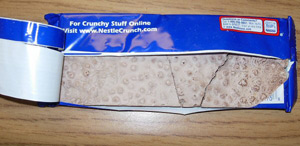 02.01.2006
In looking at potential snacks to review for Taquitos.net, I noticed that we didn't have the regular Nestle Crunch bar, the original chocolate and crisped rice candy bar. So during a visit to my local groceria establishment, I picked up a Nestle Crunch and purchased it along with my other regular groceries.
I did notice when I was purchasing the bar that the wrapper was rather dusty, as if it had been sitting on the candy shelf for a while. But since there's no expiration date on the wrapper (just a code that says "4208BK C3 5G"), I figured it was OK.
The next day I opened the bar to begin the review and noticed on the back of the chocolate was all light brown, maybe even white, as if dust had seeped in and done some weird thing to the chocolate (see photo). Obviously, I didn't eat the candy bar for the review. I did, however, take a photo.
There's a phone number listed on the wrapper to contact Nestle, but I'm rather lazy. Instead, I went to the Nestle Crunch Interweb site (www.nestlecrunch.com) and filled out a comment form and asked them how I would get a refund. We'll see if the good folks at Nestle respond. If I hear back, I'll post the results on Taquitos.net.
---
Update #1: On Feb. 2, I received this response:
Dear Mr. Shaw,

Thank you for contacting Nestlé on the Internet. Questions and comments from our consumers are always welcome!

We have reviewed your email message, and understand your concern. We are investigating your experience and you can look forward to receiving a response within 7-10 business days.

We value you as a consumer and appreciate your feedback. Please visit our website often for the latest information on Nestlé products and promotions.

Sincerely,
Jennifer ----------
Consumer Response Representative

Ref: N---------
---
Update 2: On Feb. 9, I received a letter with an official response. See Official Response from Nestle for details.