Medford loses its landmark Krispy Kreme location
By Jeremy Selwyn
Chief Snacks Officer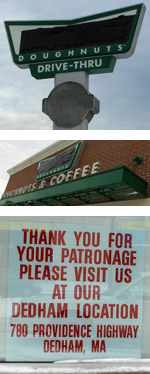 12.08.2005
Here at Taquitos.net, we closely followed the arrival of Krispy Kreme in Massachusetts.
We tracked the construction of the Medford store, and opening day was the state's biggest event of 2003. On opening day, June 24, 2003, I waited 45 minutes get doughnuts. The store set Krispy Kreme's one-day and opening-week sales records.
There were steady lines for the first few weeks and months. The store was persistent in handing out free samples long after opening week. And the doughnuts were good. But the crowds thinned out over time. For the past year, I would often arrive to a nearly empty parking lot. I was well aware of Krispy Kreme's troubles, but I figured that with the huge Station Landing condo and retail development under construction right next door, Krispy Kreme would wait it out and let the Wellington Circle store survive.
Today, less than two and half years after the opening, we were sad to learn that the store has closed. We look back with fond memories.

NEXT: What happens to a closed Krispy Kreme?