Plenty of food choices at The Big E in Springfield
By Jeremy Selwyn
Chief Snacks Officer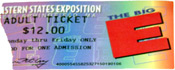 09.28.2005
Carnivals and fairs are great places to load up on indulgent foods, but if you're looking for selection, there might be nowhere better than the Eastern States Exposition in West Springfield, Massachusetts.
This place had more food booths than anywhere I've ever seen, with probably enough fried dough to stretch from Springfield to Las Vegas. (For pictures of the food trucks, see my Big E gallery.) All quite tempting, but I chose to be very selective. Here's the complete list of what I ate during my one-day visit to the 2005 edition of The Big E.
Several Tostitos dipped into fresh-made salsa from the booth pushing "The Best Salsa Maker in the World" (at the Better Living Center). I also bought the salsa maker ($20 for two salsa makers and two Multi-Graters).
Pretzel sticks dipped into a couple of different seafood dips from Amelia's Chowda (at the Better Living Center). Pretty good, but they were just selling mixes to make the dips, rather than ready-to-eat, so I didn't buy any.
Beef Jerky samples from Heidi Jo's. They had booths in two different buidings, and I sampled at both. The hot one I tried was good, the other kind of dry.
A few sample bites of fudge from The South Bend Chocolate Company (in the Better Living Center).
One Lobster Roll ($8) at the Maine building on The Avenue of States. Fresh and good, very light on the mayo. (I later discovered that my home state of Massachusetts was selling lobster rolls for just $5 in their building.)
Finnish Pancakes with Maple Syrup ($1) at the Massachusetts building. Made with lots of egg, good.
16-oz. Chocolate Milk in a collectible glass jar ($2.50) from the Massachusetts Dairy Farmers booth. Good, rich chocolate milk. They also had white milk and coffee milk, and if you were willing to drink from a cup instead of a collectible bottle, it cost considerably less (75 cents for a small or $1.25 for a large). The white milk was free for kids 2 and younger. Other choices included tomato cheddar soup, and six flavors of shakes. Quite out of character, I walked out without getting a shake.
Blueberry smoothie (a sample cup) at the Massachusetts building. Good.
A sample of New Hampshire Kettle Korn from the back of the New Hampshire building. Later, I ate another Kettle Korn sample from a vendor near Storrowton Village.
Spiced Cider Doughnut (50 cents) from Cold Hollow Cider Mill in the Vermont building. Much different from Dunkin' or Krispy Kreme, but very fresh and tasty. I was very tempted by the 21-oz. frappes at Ben & Jerry's next door, but I resisted.
Steak-Umm Cheese Steak ($1) from the Steak-Umm Express booth at the Connecticut building. The $1 price had people lined up for their choice of four varieties. It was decent, but I ate less than half to save room.
A cup of Shrimp Chili ($3.50) from Tucker Seafood at the Rhode Island building. It was very tasty, but there was only one shrimp in my cup.
One bite of a Steamed Cheeseburger and several sweet potato fries from Rosco's Big Dog on the outside of the Connecticut building.
German Fries from the German Fries food stand. These were kind of like fresh rippled potato chips, but thicker and soft, fried in peanut oil. I dipped them in lots of ketchup. There was a few minutes' wait to get the fries, but that was because they were making sure to give out fresh ones for each order. There was a Soup Nazi sort of thing going on, as the folks working the booth kept telling people to walk to the right to wait for their fries, even though there was no huge crowd causing a problem.
Guida's Dutch Chocolate Milk (16-oz. bottle, $1.25) from a vending machine at the agriculture building. A rich chocolate flavor.