Taco Bell's menu erupts with the Volcano Taco
By Jeremy Selwyn
Chief Snacks Officer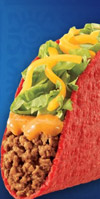 09.09.2008
Somehow, this new menu item total blindsided me. I never saw any TV ads for it, never heard any hype. I just happened to be returning to my car at the Big Man Run to feed the parking meter when I saw a Volcano Taco poster outside the Taco Bell across the street. I had no idea what a Volcano Taco was, but I knew that I had to eat one.
After I placed the order, the cashier called out "Hot taco!" (rather than "Volcano") to the taco-maker, which surprised me a bit but did give a hint about what exactly a Volcano Taco is.
When I bit into my Volcano Taco, I quickly learned the rest. It was quite hot — definitely hotter than Taco Bell's Fire sauce. After the first bite, I immediately got the hiccups. I can't remember the last time I had the hiccups — and I've eaten a lot of hot food.
I later checked Taco Bell's interweb site and found that the recipe is mostly the same as a regular taco, except that it's made with a red taco shell and contains "lava sauce" instead of the usual nacho cheese. I'm OK with hot, but something here was different enough from the usual hot that it brought on the hiccups.
Anyway, it tasted good, and at just 89 cents plus tax, this taco was quite a deal, another Taco Bell success story.