By Jeremy Selwyn
Chief Snacks Officer
Eating up Star Wars hype!
11.11.2015


With the upcoming release of Episode VII: The Force Awakens, you've probably noticed quite a lot of Star Wars stuff filling store shelves.
As I was preparing a box of Star Wars Mac & Cheese for lunch last week, I recalled that just the night before I'd eaten quite a few packets of Star Wars Popping Candy, and a day earlier had munched on Star Wars Cheez-Its to do a review of them. So it occurred to me: I'm living the George Lucas Diet!
I decided that I should keep this going for as many days as I can, or until December 18 when the movie premieres. The rules are fairly simple: I have to eat at least one branded Star Wars food each day. It's not an all-Star Wars diet — I will be eating other foods as usual — but the Star Wars item must be different each day, no repeats. So I'll be doing a lot of shopping to find as many licensed Star Wars foods as I can.
I'll be revising this page with my daily update for as long as I can keep The George Lucas Diet going.
Day 1: Cheez-Its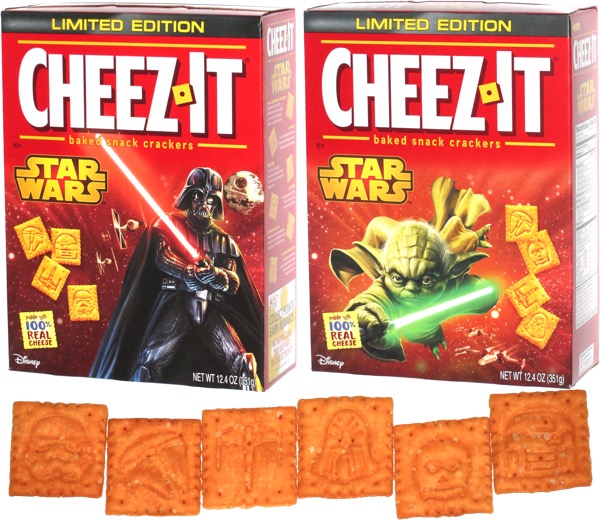 It all started when I ate the Cheez-Its (with Yoda on one side of the box and Darth Vader on the reverse) and wrote this review. The excitement here was that they really were Star Wars Cheez-Its, featuring six different designs, not just regular Cheez-Its in a Star Wars box.