Free tacos may not be worth the price
By Jeremy Selwyn
Chief Snacks Officer
10.24.2007
Baseball fans (and taco fans) have probably heard the hype by now: If there's a stolen base during the 2007 World Series, Taco Bell will offer "Free Tacos for America."
Specifically, that would be one Crunchy Seasoned Beef Taco for anyone who can make their way to Taco Bell during a particular 3-hour window.
Here's the thing: This is just stupid. These tacos sell for about 77 cents. That's all that they are giving out. No beverage, no side of nachos, no nothing. If the first stolen base happens during Game 1, you've got to wait five days for your free taco. And the contest rules are appallingly restrictive and just idiotic, complete with bad grammar and typos (nice job, highly paid taco lawyers). I particularly laughed at the "How to Obtain a Free Taco" section. Here are the full rules (commentary continues below):

EVENT: Taco Bell Corp. ("Taco Bell") is tapping into the national pastime with a completely outside the bun idea: During any game of the 2007 World Series (the "Games"), currently scheduled for Wednesday, October 24, 2007, Thursday, October 25, 2007, Saturday, October 27, Sunday, October 28, 2007, Monday, October 29, 2007 (if necessary), Wednesday, October 31, 2007 (if necessary), Thursday, November 1, 2007, (if necessary), Games or event dates and times determined in the sole discretion of the Office of the Commissioner of Baseball, and/or Major League Baseball Properties, Inc., as applicable, and are subject to change, Taco Bell will offer the prize identified below for ANY "stolen base" as determined by Taco Bell in its sole discretion. For purposes of this event, an eligible "stolen base" is defined as a base stolen during regulation or extra innings play and is subject to the determination/designation of the official Major League Baseball scorekeeper as an official stolen base. Any attempted stolen base which does not result in an official stolen base as defined herein, will not be eligible for the "Free Taco" as outlined herein. If a base is stolen during regulation or extra innings play by any player for either team, Taco Bell will offer every person in the U.S. the opportunity to obtain one (1) free Crunchy Seasoned Beef Taco (Approximate Retail Value 77¢, prices may vary) ("Free Taco") at participating Taco Bell® restaurants in the United States on the date designated herein. No product substitution, cash redemption or alternative will be allowed. Only one (1) Free Taco will be permitted per person, regardless of how many eligible bases are stolen during the Games. In the event the Games are not played on October 24-November 1, 2007, the offer will be good during any Games of the 2007 MLB World Series to be announced. ELIGIBILITY: No Purchase Necessary. This offer is open to legal residents of the fifty (50) United States and the District of Columbia only. Void in all other territories, possessions, commonwealths and all other countries. Void where prohibited. MLB Entities (as defined below) and employees thereof are ineligible.

SPONSOR: Taco Bell Corp., 17901 Von Karman Avenue, Irvine, CA 92614.

HOW TO OBTAIN A FREE TACO: If an eligible base was stolen during the Games, Taco Bell will make an announcement through selected media channels, including a press release and its web site (www.tacobell.com), that eligible consumers can obtain their free Crunchy Seasoned Beef Taco on Tuesday, October 30, 2007 (if base is stolen in Games 1 or 2 on October 24 or October 25, 2007) OR November 6, 2007 (if base is stolen in Games 3-7, October 27, 28, 29, 31, November 1, 2007) ("Redemption Date") only. To obtain the Free Taco, consumers must visit any participating Taco Bell® restaurant in one of the fifty (50) the United States or District of Columbia between 2:00 p.m. and 5:00 p.m. (local time) on the Redemption Date only and request a Free Crunchy Seasoned Beef Taco. Free Taco's will not be offered on any other date or time, regardless of circumstance. Limit one (1) Free Crunchy Seasoned Beef Taco per person. Participating Taco Bell restaurant manager reserves the right to deny Free Taco to any person he/she reasonably believes has already received a Free Taco or has engaged in any other fraudulent activity. All eligible consumers: Everyone in line at a participating Taco Bell restaurant before 5:00 p.m. local time will receive a Free Taco, even if it is provided after 5:00 p.m. Free Taco offer is subject to store availability and Taco Bell reserves the right to substitute an item of equal or greater value if due to unavailability. All restaurant managers decisions are final regarding to Free Taco offer. As a condition of the offer, consumers agree: (a) to release, and hold harmless Major League Baseball Properties, Inc., Major League Baseball Enterprises, Inc., MLB Advanced Media, L.P., MLB Media Holdings, Inc., MLB Media Holdings, L.P., MLB Online Services, Inc., the Office of the Commissioner of Baseball, and the Major League Baseball Clubs, and each of their respective shareholders, employees, parents, directors, officers, affiliates, representatives, agents, successors, and assigns (hereinafter,"MLB Etities") and Sponsor and their affiliates, subsidiaries, retailers, sales representatives, distributors and franchisees, and each of their officers, directors, employees and agents ("Promotional Parties"), from any and all claims, demands, losses, promises, causes of action, and liabilities, in this contest/promotion or any use/misuse of the prizes awarded hereunder including a Free Taco, (b) under no circumstances will entrant be permitted to obtain awards for, and participant hereby waives all rights to claim, punitive, incidental, consequential, or any other damages, other than for actual out-of-pocket expenses; (c) all causes of action arising out of or connected with this Offer or any Free Taco or any advertising, marketing, promotion or publicity materials in connection therewith, shall be resolved individually, without resort to any form of class action; and (d) any and all claims, judgments, and award shall be limited to actual out-of-pocket costs incurred, excluding attorneys' fees and court costs. By participating, consumers agree that all issues and questions concerning the construction, validity, interpretation and enforceability of these Official Rules, participant's rights and obligations, or the rights and obligations of the Sponsor in connection with the Sweepstakes, shall be governed by, and construed in accordance with, the laws of State of California, without giving effect to any choice of law or conflict of law rules. By entering, entrants consent to the jurisdiction and venue of the federal, state and local courts for Irvine, California.

Taco Bell is an official sponsor of Major League Baseball Properties, Inc. Major League Baseball trademarks and copyrights used with permission of Major League Baseball Properties, Inc. Contest not produced or executed by any MLB Entity.
Amazing how many rights you need to sign away in exchange for a free 77-cent taco. I loved the part about how the prize is offered for "ANY 'stolen base' as determined by Taco Bell in its sole discretion" before mentioning the role of the official scorer in such matters. Well, whose decision is it? I can't wait to hear the uproar when a runner moves up and it's ruled as defensive indifference.
During the 6th inning of Game 1 (with the Red Sox up 13-1) the Fox network ran a "Sounds of the Game" clip of Royce Clayton and Coco Crisp in the dugout discussing the rules of the contest. Clayton was under the mistaken assumption that the giveaway would be the same day as the stolen base, as Crisp argued that there wouldn't be enough hours left in the day. Said Clayton: "That's how it has to be. How you gonna come in and say, 'I ain't got my taco.' ?"
I've got some bad news for both Crisp and Clayton: According to the rules, neither of you is allowed to get a free taco. Even if you're the one who steals a base!

Update: Jacoby Ellsbury stole second base in the bottom of the 4th inning of Game 2 on Thursday. So we will get our free taco on Tuesday, October 30. Apparently some people are pushing for a nickname of "Tacoby Bellsbury" for the speedy outfielder.

A few innings later, Fox's "Sounds of the Game" presented the following taped dugout conversation between Clayton and Ellsbury from Game 1:
Clayton: Hey, you like Taco Bell?
Ellsbury: (nods)
Clayton: You know, if somebody steals a base in the World Series, everybody in America gets a Taco Bell free taco.
Ellsbury: Everybody in America?
Clayton: Everybody in America gets a free taco.

Soon after that, Fox's Chris Myers did a live interview with Rob Savage, the COO of Taco Hell:
Myers: How 'bout the players talking about getting the free taco for the fans?
Mr. Taco: It's outstanding, and the fact that Jacoby stole that base means no matter who you're a fan of, everybody gets a free taco.
Myers: So that's gonna cost you money. How you able to do it?
Mr. Taco: Well, it's all for our customers, and we're gonna do it for our customers and we're ready to serve millions of free tacos to everybody next Tuesday, every one of them made fresh for you.
Myers: Baseball, apple pie and tacos. You know, just for you, we got you, your home special, the fans here at Fenway kicked in and got you some clam chowder, even though it's in a Taco Bell bag, and we got you some hot sauce, all right? We're thinking outside the bun.

The stolen base was the subject of this conversation among Tom Caron, Dennis Eckersley and Jerry Remy during the postgame show on NESN:
Caron: And speaking of baserunning, by the way, how 'bout Jacoby Ellsbury? He will forever be known as getting America a free taco.
Remy: Yes, it was quite a moment in the game tonight. We've been waiting for the first steal of the series. And I call this taco indifference because there was no throw to second base. I am not sure they should give the tacos for that.
Caron: Really, you don't feel you've earned the taco?
Remy: No, there was no throw, just a fake throw by the catcher. But look at this, everybody's got tacos.
Eckersley: You knew he was gonna go. They're gonna give him the bag. I mean, but everybody gets a taco. It's a big steal right there.
Remy: I'm kind of glad because I'm sick of hearing about the tacos to be honest with you.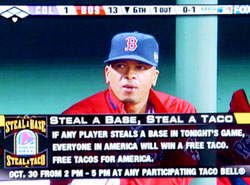 It's No Contest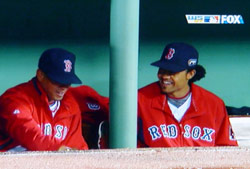 Talkin' Tacos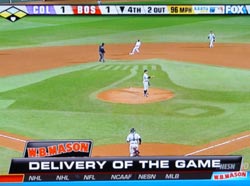 Safe at Second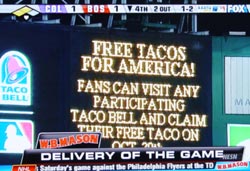 But Taco Bell Doesn't Deliver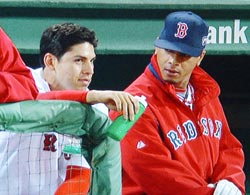 Taco Flashback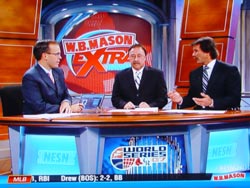 Remdawg Questions Tacos