Taco Bell delivers the Naked Chicken Chalupa
By Jeremy Selwyn
Chief Snacks Officer
02.02.2017
In Taco Bell's ongoing quest to shock us with ever-weirder edibles, they've introduced something called the Naked Chicken Chalupa, in which they've replaced the fried tortilla shell of their venerable Chalupa (say it now: Drop the Chalupa!) with fried chicken in roughly the same shape. So of course I had to try one.
This isn't the first time that Taco Bell parent company Yum Brands has replaced a traditional grain-based food enclosure with a chicken-based one. In 2010, KFC invited chicken eaters to try its Double Down, where two pieces of fried chicken enclosed a bacon-and-cheese sandwich. Burnt fingers aside, I liked it.
As for the Naked Chicken Chalupa, here's what it looked like: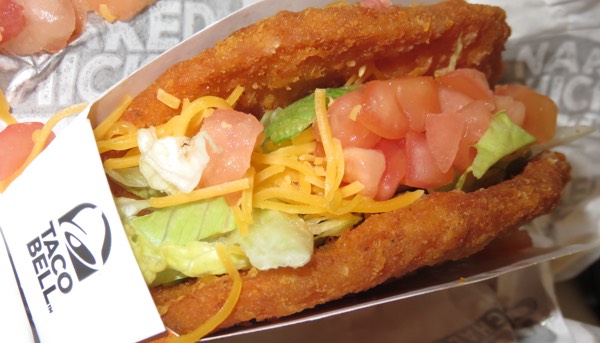 Taco Bell really did a good job with this product. I'll get to some other very nice details next, but first the chalupa itself. It was very good! The fried chicken was shaped like a chalupa shell, was hot but not too hot (so no burnt fingers), held its contents pretty well, was moist and even tasted pretty good. I'd compare the taste to an above-average chicken nugget. You can customize it with many choices of fillings, but by default, it includes tomatoes, cheese and lettuce inside. That might seem like a not-so-filling filling, but don't forget that it's entirely surrounded by chicken.
What was else so good about Taco Bell on this visit? Let's start with value. The Naked Chicken Chalupa cost $3.99 on its own, but the Naked Chicken Chalupa Box was just $5, adding two — count 'em, two — tacos and a medium beverage. Oh, and it gets better! Check out the box itself: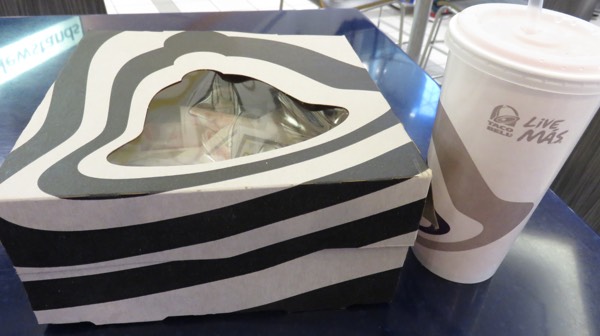 A great design utilizing the Taco Bell logo. I don't know what I'm going to do with it, but I could not bring myself to throw away such a nice box, so I took it home with me.
Even more goodness! I didn't specify which tacos when I ordered, but one was a Doritos Locos Taco (Supreme) and the other a regular Supreme Taco. All three had wrappers and cardboard shell protectors that were customized to the particular product. (Noticing a high degree of positivity here? Well, it's deserved in this case, but just read my original review of the Doritos Locos Tacos to confirm that I call them as I see them.) Here's a full view of the inside of the box: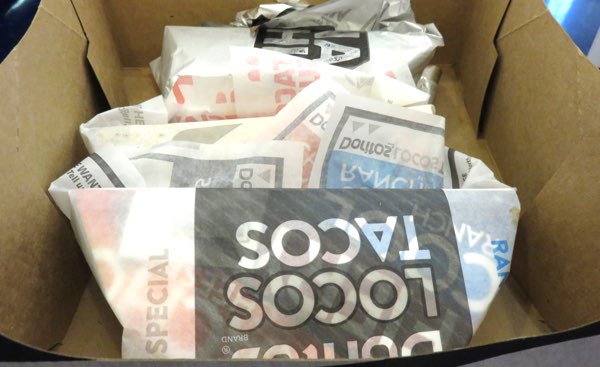 Even the design of the cardboard shell protector for the Locos Tacos has been improved: