Another adventure at Taco Bell
By Jeremy Selwyn
Chief Snacks Officer
03.30.2012

I don't visit Taco Bell all that often, but given my compulsion with trying every Doritos flavor I can find, and my odd obsession with trying new Taco Bell items, once I spotted the signs for this item during my recent trip to Spring Training in Florida, I felt like I had no choice but to try the "Taco Bell on the Inside, Doritos on the Outside" taco.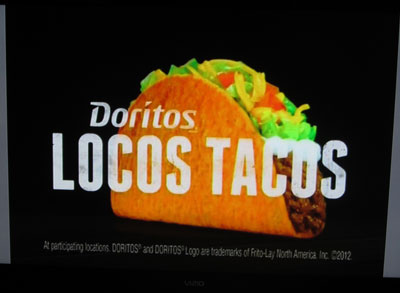 They're running ads for this product now, featuring the story of some guy who supposedly drove 965 miles for these tacos when they were only available in certain regions. Seems a bit far-fetched, considering that you could always just buy some Doritos and jam them into your non-Doritos Taco Bell taco. But maybe that's just me.
Time to eat
My visit to the Taco Bell in Hollywood, Florida, turned out to be an adventure.
The fun began as I pulled the car up to the Taco Bell. The lights were on, and they appeared to be open. Given that it was 8:40 p.m., open seemed like a reasonable thing. But before I even got out of my car, a Taco Bell worker signaled to me through the window that they were closed. This was even stranger, considering that it wasn't actually closed, as it turned out that the drive-through was still open. I normally avoid the drive-through.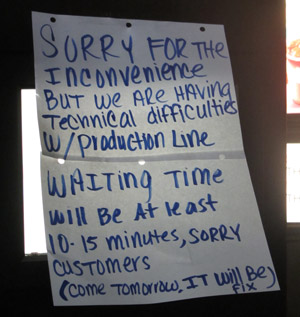 I pulled into the drive-through to see this great sign posted over the speaker/microphone device. Oh, good.
I asked for two of the Doritos Tacos, which I had seen promoted in window posters, but didn't specifically see on the menu. They asked whether I wanted regular or Supreme, a decision that hadn't even crossed my mind (I hadn't seen the two kinds on the menu). I said one of each.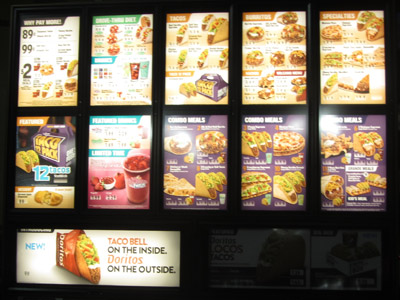 Here's that menu, with no visible listing for the Tacos Locos, just the ad for them in the lower left. It turns out that they were in that dim area in the lower right, but I didn't even notice that in person, and only noticed it just now in the photo, thanks to the magic of digital photography and my trusty Canon SX230 HS. (The HS is for High Sensitivity, which is supposed to be good for low light, proven right here.) Apparently this indicates yet more technical difficulties at Taco Bell, as there was a light bulb out in this key part of the menu.

Here's a close-up of the ad on the menu board. Clever serving it out of a Doritos bag, and it actually does look appetizing!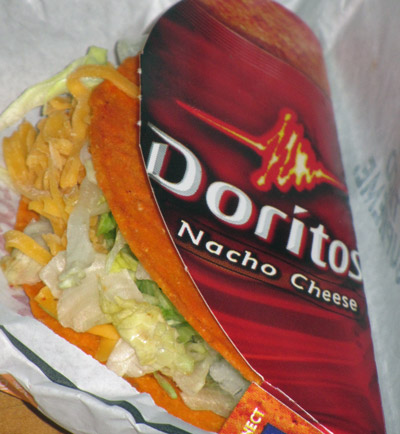 At the pick-up window, they took my money and got me my order fairly quickly, without any of the anticipated delay.
But all was not well with my dinner. I got back to my hotel and opened up the bag to find just one taco, which appeared to be a Supreme. I was pretty sure I paid for both, since the total was $3.16 (and previous experience had shown that you can buy every item on the Taco Bell menu for about $10), and I confirmed this on the receipt. I also looked again to confirm that there was only one taco in the bag.
Now, I understand that this was a particularly complicated order to assemble. It must be rare that anyone comes into Taco Bell and orders as many as two items, so I'll give Taco Bell a small break on the omission of half of my order.
I can't comment on the taste of the non-Supreme taco, since Taco Bell didn't give me one and therefore I didn't eat one. The Supreme taco came in a special Doritos Nacho Cheese-branded sleeve, with a similar look to the Doritos bag shown in the ads. I figured they would match the shell color to the advertised flavor of Doritos, but surprisingly, they didn't even try to match it. The shell looked redder than Nacho Cheese Doritos, sort of a pale red, a bit pinkish. As for the taste, I must give Taco Bell credit: It tasted mostly like a Taco Bell taco, but the shell really did taste like Doritos. So they delivered just what they said they would. Except for my second taco!