10 days, 10 games, 10 hot dogs
By Jeremy Selwyn
Chief Snacks Officer
04.05.2009
I just got back from a whirlwind tour of Spring Training games along Florida's Gulf Coast. I managed to attend 10 games at nine different ballparks over the course of 10 days. One of my goals was to eat at least one hot dog at each park.
Day 1

After landing in Tampa, I drove inland to the Detriot Tigers' home field, Joker Marchant Stadium in Lakeland, to see them take on the Marlins. I got a footlong hot dog, and it was excellent. It easily exceeded the advertised length, measuring about 15 inches. I topped it with onions, sauerkraut, ketchup and mustard, and this was a very tasty hot dog.
Games: 1
Hot dogs: 1
Day 2

The next day, I ventured south of Tampa to the Pittsburgh Pirates' ballpark in Bradenton. Here, they were preparing their footlong dogs on an outdoor grill, with optional toppings of hot peppers, sweet peppers and sauerkraut. Of course, I went with the works. With all of that pre-applied for me, I didn't add any additional condiments. This dog was just about a foot long — not as impressive as the Tigers dog, but it was still quite acceptable. Unfortunately, this one wasn't nearly as tasty. Just an average dog.
Games: 2
Hot dogs: 2
Day 3

Next, I was back in Tampa to see the Yankees take on the Red Sox at George M. Steinbrenner Field (formerly known as Legends Field). The good thing was that they also offered a footlong dog. This one came in sort of a frilly sleeve, and unfortunately, it fell a few inches short of being a foot long. I topped it with onions, relish, ketchup and mustard. Nothing special this time either — another very average hot dog.
Games: 3
Hot dogs: 3
Day 4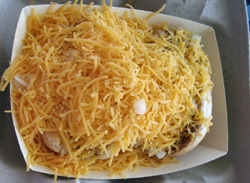 This was my first major challenge on the hot dog quest, as plans called for attending a day game at the Reds home field in Sarasota (against the Red Sox) and a then night game farther south in Port Charlotte. Would I be able to handle two footlong dogs in one day?
The question turned out to be moot, as they had no footlongs in Sarasota. There was some sort of special regular hot dog offered, but I went even farther away from a footlong, opting for two Coney dogs from Skyline Chili, each about half the length of a conventional hot dog.
This turned out to be a very good decision. Optional toppings on these chili dogs were onions and cheese, and I didn't hesitate to take both. The result was just delicious. The dogs themselves tasted great, and the combination of dogs and toppings was just sublime — an amazing combination. You can't even see the dogs in the picture, and you can hardly see the buns, because the pile of shredded cheese on top was immense. I pushed a lot of cheese into the tray to make it more manageable to eat the dogs, but there was still quite a lot of cheese on top. Once I finished the dogs, I grabbed my fork and started on the pile of cheese. I ate quite a bit of it but decided to leave some uneaten, mindful of the challenges ahead.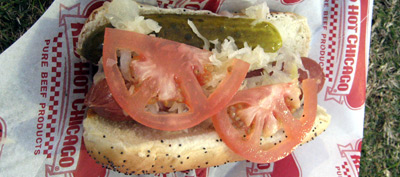 For the second game of the day, the Tampa Bay Rays were hosting the Pirates in Port Charlotte. This recently renovated ballpark provided a real challenge to my hot dog quest. Not only did they not have footlongs, but they had a very tempting non-hot dog treat that I've never seen at any other ballpark — Chick-fil-A sandwiches. But a confluence of factors brought me back to the dog: 1) I already ate a Chick-fil-A sandwich earlier in the week in the Tampa area. 2) I truly believe that you're supposed to always eat a hot dog at a baseball game. 3) They had Chicago-style dogs.
So I got the Chicago dog with all of the toppings offered: celery salt, tomatoes, sauerkraut and a pickle. Maybe this wasn't such a wise choice, because the hot dog itself was really not that tasty of a dog. I've previously had Chicago-style dogs that were better and had even more toppings at Wrigley Field and at the United terminal at O'Hare.
Games: 5
Hot dogs: 6
Day 5

After my day-night doubleheader, I had scheduled an off day, so no baseball and no hot dogs, but more time for relaxing on the beach and exploring the Gulf Coast. I continued to head south along the coast, destination Fort Myers, for Red Sox home games the next two days.
Games: 5
Hot dogs: 6
Days 6 and 7

For the first of the Red Sox home games, against the Cardinals, the two hot dog choices were Jumbo Dog and Super Dog. I opted for the more expensive Super Dog. When I was handed the foil bag containing the dog, it was extremely hot. This one didn't attempt to be a footlong, but it was a bit thicker than your average hot dog. I topped it with mustard, relish and ketchup. It tasted a lot like a Fenway Frank, so it was pretty good hot dog, though nothing special like the dogs in Lakeland and Sarasota.
Before the second game in Fort Myers, I ate a big breakfast at the Mel's Diner in North Fort Myers and didn't end up eating much at the Red Sox vs. Twins game.
Games: 7
Hot dogs: 7
Day 8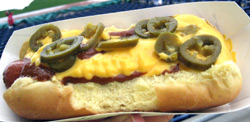 With seven games already done, it was time to start heading back north toward my ultimate destination of the Snaxpo convention in Orlando. So it was on to the Phillies' ballpark in Clearwater for a game against the Red Sox.
I did a lap of the park to check out the concession options, bypassing the ordinary hot dog vendor in center field in search of the "Specialty Hot Dogs" I had seen mentioned on one sign. The options were the All American Dog (ketchup, relish, mustard and onion), the Southern Dog (sauerkraut, brown mustard and onions), the Philly Dog (grilled onion and peppers), the Midwest Dog (relish, mustard, tomatoes and celery salt) and my choice, the Southwest Dog (chili, cheese and jalapeno).
To me, it was an easy choice, because I like spicy foods, and all of the other combinations were close to what I'd already had this week. I'm very glad I got the Southwest Dog. This standard-size hot dog didn't approach the unmitigated awesomeness of the chili dogs in Sarasota, but it was still quite good.
The friendly concession woman who sold me the dog first asked if this was breakfast or lunch, and when I told her it was basically breakfast, she urged me to return to get a Philly Dog for lunch, as she raved about the recipe. For some reason that I can't remember, I did not return.
Games: 8
Hot dogs: 8
Day 9

The next morning, I attended Snaxpo in Orlando, planning to sneak out for the middle of the day to catch the Braves hosting the Red Sox at Disney's Wide World of Sports, then return to Snaxpo.
I'm not sure I made such great eating decisions this day — not that I ate anything bad, but I sure ate a lot. Before heading to Snaxpo, I had some cereal, a yogurt and a banana, hoping to start the day with some non-snack food and planning not to touch any heavy catered breakfast offered at Snaxpo. But when some sort of egg, potato and steak dish was placed in front of me, I ate all of the egg, some of the potato and a bit of the steak. Then when we were offered bag lunches for the noonish educational sessions, I took one and and ate part of it. Plus, I munched on some of the snack samples that were all over the conference.
So by the time I got to the game, I definitely had some food in me. Still, I had to get a hot dog, so I did. The dog was a lot like the one I got in Fort Myers — fairly large, but not a footlong. I topped it with relish, ketchup and mustard. Again, it tasted a lot like a Fenway Frank, pretty good.
When I got back to Snaxpo after the game, they were offering bowls of Fritos topped with chili, with a whole range of optional toppings. Somehow, I successfully resisted. But I did try a number of snack samples from some of the ingredient companies showing off their flavor creations.
Games: 9
Hot dogs: 9
Day 10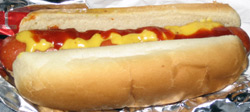 For my 10th and final Spring Training game, I ended the second day of Snaxpo by heading east away from Disney along US 192 to the Houston Astros home park in Kissimmee for a night game against the Braves. This was a nice little park, with all of the seats very close to the action (two fans sitting near me got hit by a broken bat), but there was one very odd thing. The menu on the wall at the concession stands listed all sorts of things, but not hot dogs. I figured this could not be right, so I just ordered one anyway, and the concession woman didn't bat an eye and took the order. She handed me a dog in a foil wrapper, which was noticeably hot (though not quite so much as the one in Fort Myers). The Heinz condiments on tap included a few choices beyond the usual, so I went with both honey-mustard and barbecue sauce. But it turned out to be a pretty average dog, both in size and taste. Nothing great here.
I followed up the hot dog with a cup of boiled peanuts, which I ordered because I had never heard of boiled peanuts, let alone eaten them. They were just like what they sounded, in-shell peanuts soaked in boiling water and drained (though still quite wet) with a lot of salt. The taste and feel took some getting used to (and some cooling down) but I kind of liked them.
Games: 10
Hot dogs: 10