New flavors that might be coming to a chip bag near you
By Jeremy Selwyn
Chief Snacks Officer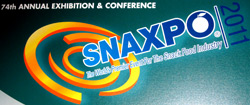 05.20.2011
One of the best things about attending the annual Snaxpo convention is the chance to taste some flavors that you're unlikely to find at any of the usual snacks and grocery destinations.
At Snaxpo, the annual gathering of the Snack Food Association, companies in the flavor business are on hand to push their creations to the snack manufacturers.
Most of these flavors are essentially exclusive to Snaxpo. That's not to say that the folks who came up with these flavors wouldn't want you to try them, but really they were created to show off these companies' flavor-making skills and give ideas to the chip companies.
This year's flavors were as impressive as ever. Here are some highlights:
Wixon Inc. had a "Global Street Food" theme to their flavor selection, offering barbecue styles from around the world:
Kansas City BBQ potato chips
Argentinean Asado sweet potato chips
Korean Kalbi crunchy snacks
South African Braai corn puffs
Russian Shashlik potato balls
Continental Ingredients had some combination of tastes that I'd never seen before:
Maple Mustard potato chips
Stuffed Pepper potato chips
Mexican Mole potato chips
Yuzo Kosho potato chips
Continental also served up a "World Trail Mix" with four different snacks interspersed, but each bearing a different seasoning:
Bacon Cheddar rings
Tikka Masala peanuts
Buffalo Wing spheres
Cha Cha Chili checkerboards
Mane's flavors included:
Salsa Borracha (drunken salsa)
Tamarindo
Gamay offered up:
Mole Poblano
White Cheddar Parmesan Mac & Cheese (not actual macaroni, but a potato chip flavored to taste like it)
Carolina ingredients featured these flavors:
Grandma's Sweet Potato Pie (on a sweet potato chip)
Baja Salsa
Kraft Food Ingredients had some Mexican-spiced seasonings:
Syrmise had some bold potato chip flavors:
Asiago Cheese & Black Pepper
Piri Piri Citrus Pepper
Fuchs had their own bold flavors:
Carnitas
Sweet Pepper Relish
Lemon Grass Thai Sweet Basil
One of the mysterious parts of the snack business is that the snack companies normally won't tell you which of these flavor companies supply their ingredients, and the flavor folks have been sworn to keep their clients' names confidential. So the taste of your favorite chip might actually be the handiwork of these flavor companies, but you'll never know, as they live in anonymity.