Thousands of food companies show off their best (and we eat lots of it)
By Jeremy Selwyn
Chief Snacks Officer
07.25.2013
Given Taquitos.net's never-ending quest to eat as many different kinds of potato chips, popcorn, pretzels and cheese puffs as we can find, you might think that the last place you'd find us is at an event called the Fancy Food Show.
But as you'll see from my report below, the Specialty Food Association's Summer Fancy Food Show in New York was (among many other superlatives) an explosion of innovation and flavor that even a dedicated snacker could love.
The number of food companies spread throughout the Javits Center was amazing — 2500 companies from 50 countries. Among the most surprising things was the sheer number of chocolate companies that exist, with hundreds of them in attendance!
Better with Bacon!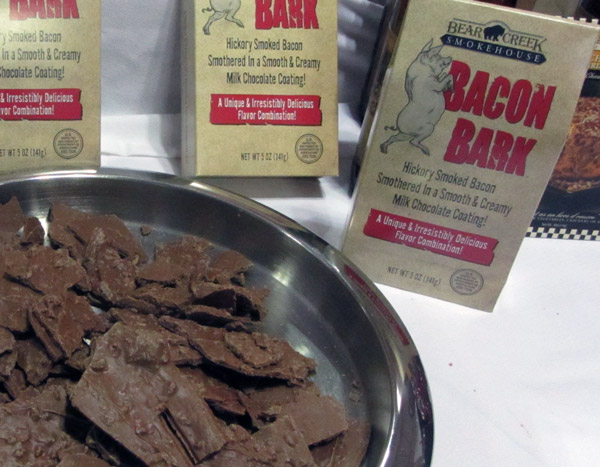 The chocolate item that made the biggest impression on me didn't even come from a chocolate company, but rather a meat company, Bear Creek Smokehouse. With so many thousands of food samples begging for my taste buds' attention, I was slightly choosy about what I ate, but I didn't think twice before diving into this one (and I ended up grabbing several more pieces).
Bacon Bark took some excellent hickory smoked bacon and combined it with lots of soft milk chocolate into bark-like pieces. The bacon hidden under that chocolate wasn't quite crispy, as it mixed seamlessly into the chocolate to create chewy perfection, offering up about equal amounts of bacon and milk chocolate to taste. Major winner.
A Lot of flavors!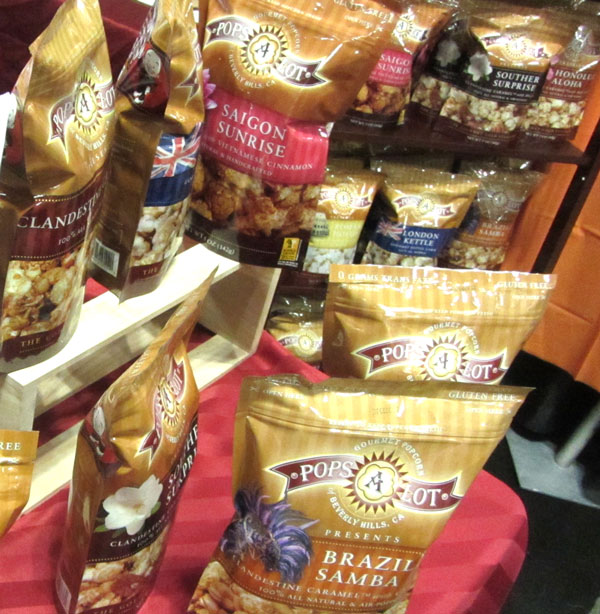 The show was also a magnet for fancy recipes of popcorn, with many intense flavors.
One company stood out for not just the taste of its flavors and the crispness of its popcorn, but also for the distinctive (and frequently alliterative) flavor names. Popsalot's offerings included Clandestine Caramel, Saigon Sunrise (kettle corn with Vietnamese cinnamon) and Roman Holiday (parmesan cheese). We'll be reviewing these flavors soon.
Chocolate worth looking at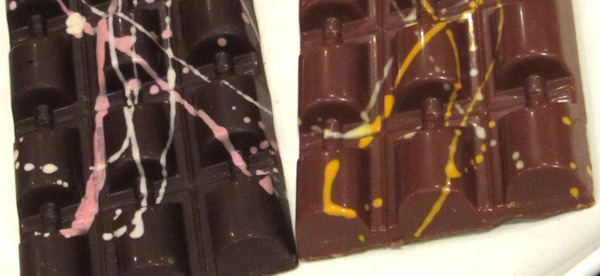 With hundreds of chocolate companies competing for attention, I got to try many products that not only tasted good but also looked quite good. One of the standouts for looks was Sulpice Chocolat, which boasted "Art and Chocolate. Harmonized." Their specially flavored bars had squiggles of various colors dancing around the surfaces of the bars, a joy to look at and to eat. At left is their Le Chocolat Noir (70% dark chocolate) and at right, Au Lait (41% pure milk chocolate). Those were actually two of the most basic flavors, as the other varieties such as Cinnamon, Chipotle & Cayenne Pepper Dark Chocolate and Ginger, Lemon & Dark Chocolate each had a different artistic mix of colors.