One more reason to be a Red Sox fan
By Jeremy Selwyn
Chief Snacks Officer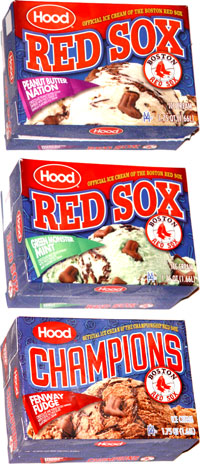 07.31.2007
With the pennant races heating up, it's time to head for the frozen aisle to get some ice cream.
For those of us who are both Red Sox fans and ice cream fans, the good folks at H.P. Hood let us cover all the bases with one swing, thanks to their four flavors of Red Sox ice cream.
I would be inclined to walk away from these products as just another moneymaking gimmick by the Red Sox ownership group, but I just can't do that, because it's really good ice cream. All four varieties of Red Sox ice cream include sox-shaped chocolate candies customized to the ice cream's flavor.
Here are the four choices: Comeback Caramel (chocolate and caramel socks and thick caramel swirled in caramel flavored ice cream), Fenway Fudge (chocolate and fudge socks swirled with thick fudge in chocolate flavored ice cream), Green Monster Mint (chocolate mint socks swirled with thick fudge in mint flavored ice cream) and Peanut Butter Nation (chocolate and peanut butter socks swirled with fudge in vanilla flavored ice cream). Peanut Butter Nation is the best player the lineup, but I would gladly eat any of the above. Hood made the right call when they didn't include nuts in any of the recipes. Hood also makes the Sports Bars sold at Fenway Park, and now they're available by the box under the Red Sox brand in the frozen aisle as well.
The four products were originally released under the "Champions" brand following the 2004 World Series victory, but were shifted to the "Red Sox" name about a year later. They'll be switching back to the Champions name this October after the Red Sox win it all again.