Hollywood institution combines special recipes, long lines
By Jeremy Selwyn
Chief Snacks Officer
08.22.2012

During a one-day stay in Los Angeles, a hot dog from Pink's in Hollywood was high on my list of things to eat. I'd heard many raves about their dogs, along with their long tradition in Hollywood. Normally, I don't have the patience to wait in line for much of anything, but a dog from Pink's seemed worth making an exception.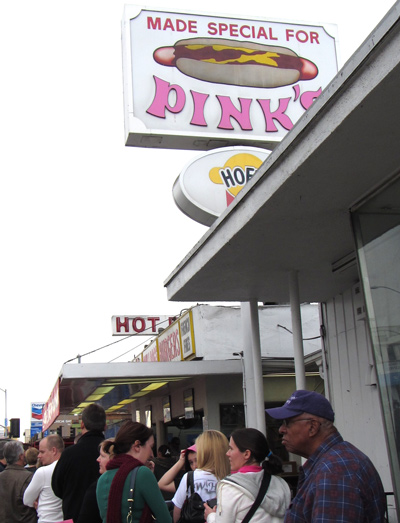 The line ended up being quite long, as it was a full half hour between when I got in line and when I ordered, plus another 5 minutes to get the food. But soon after queueing up, some Pink's folks dropped by to hand out menus, allowing me to begin thinking about the all-important decision about what to have for lunch.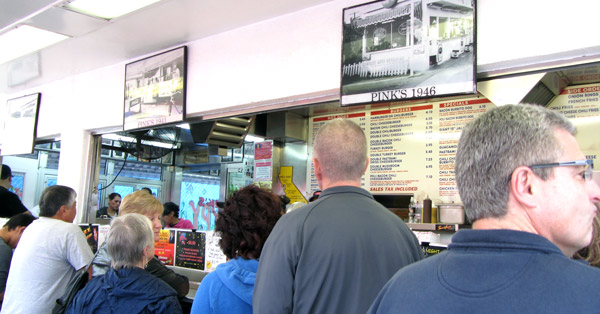 As the line snaked around in front of the building, the big menu board inside came into view, along with lots of themed specials posted on the front wall.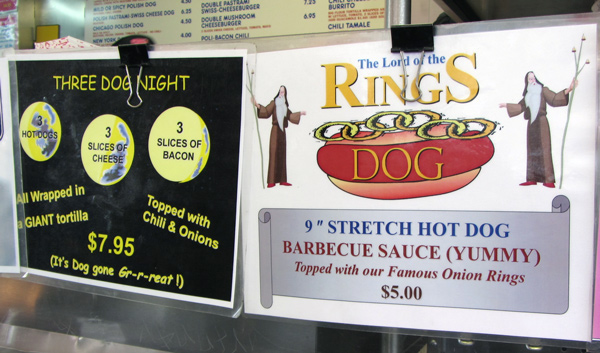 I wasn't sure I was hungry enough for the Three Dog Night (3 hot dogs, 3 slices of cheese, 3 slices of bacon, chili and onions, wrapped in a tortilla) but wow, did that sound good! Onion rings on a hot dog (instead of the usual with a hot dog) was a new one to me — Lord of the Rings indeed!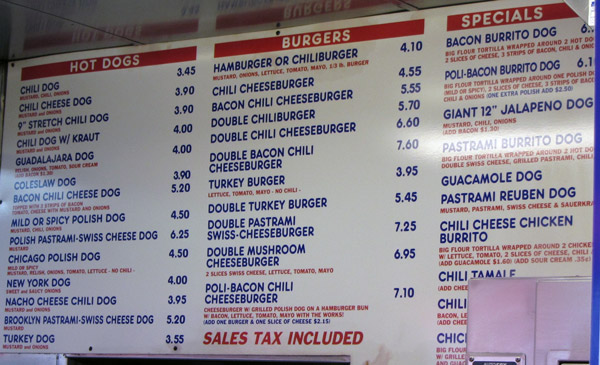 Seeing the full menu brought the enormity of my impending decision to the forefront.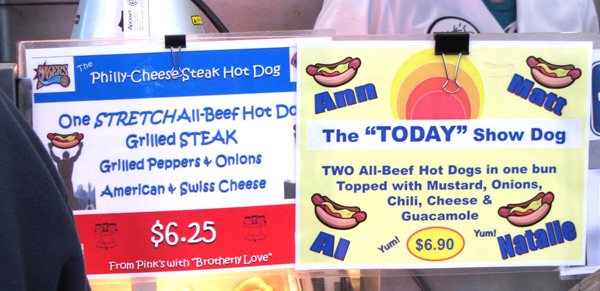 Meanwhile, I continued to explore the specials. The "Today" show dog tempted with two dogs in one bun, joined by my good friends mustard, onions, chili, cheese and guacamole! The Philly Cheese Steak Hot Dog invited cheesesteak elements steak, grilled peppers, onions and cheese into the bun to join the hot dog.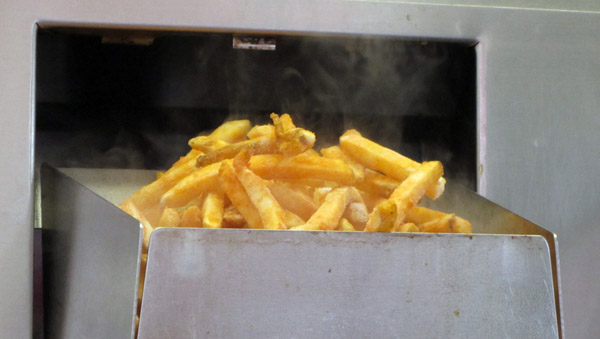 Peeking into the kitchen revealed some very tempting fries as steam rose from the fryolator.

The specials continue! Gustavo Dudamel's hot dog includes guac, two kinds of cheese, grilled veggies, jalapeno peppers and tortilla chips. The Mayor's Dog (endorsed by Antonio Villaraigosa) boasts tomatoes, lettuce, chili, onions and guac.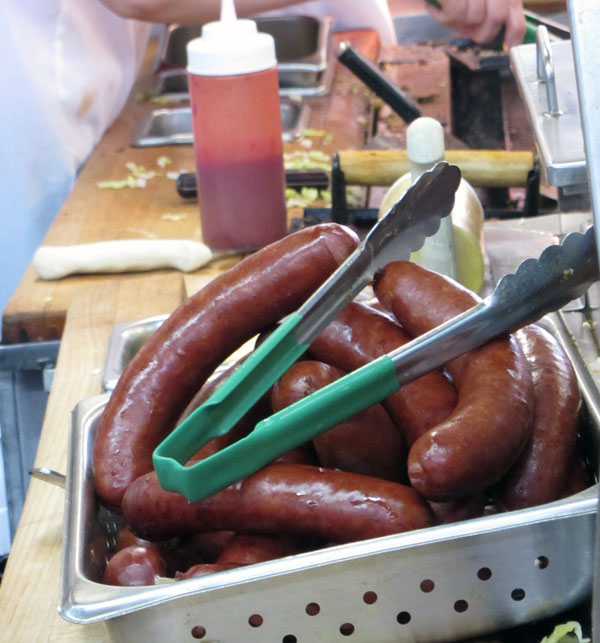 Finally time to order, I opted for the Bacon Chili Cheese Dog (below, with 3 strips of bacon, cheese, mustard and onions). As I waited for it to be made, I got a good view from the cash registers area into the food prep area (above), where each order was individually prepared by the same person who took the order. The ingredients looked fresh and so tempting!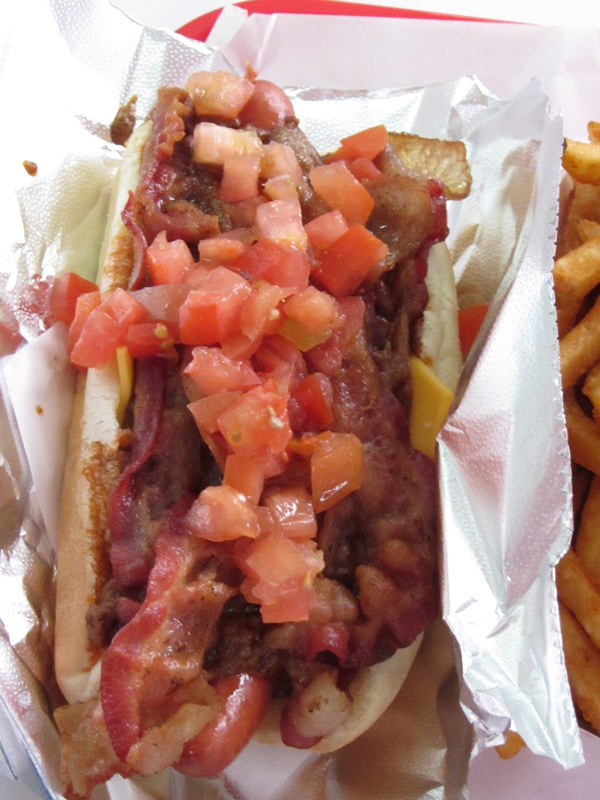 In addition to the hot dog, I got an order of fries. I also made up for not ordering any of those guac-inclusive specials by ordering a side of guac.
The weird thing was that by the time I got my food, it turned out that I could barely eat it. I had most of the guac, a few of the fries and maybe a third of the hot dog. Normally, I really do like to eat, and I sure seemed hungry when I arrived, so I can't quite figure out what happened. Maybe it was the half-hour wait, or the jet lag, or maybe it was the chicken and waffles that I had for breakfast at Roscoe's.
Next visit to LA, I will be back to further explore the menu!