Kernel Encore's shipping method stands out
By Jeremy Selwyn
Chief Snacks Officer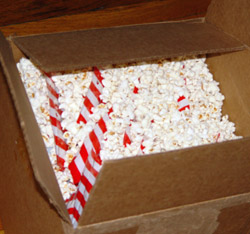 08.08.2008
The folks at Kernel Encore recently sent us 10 bags of popcorn, and so far it's turned out to be very good popcorn. But the big surprise was the way that they packed it.
As I started to open the shipping box, I smelled popcorn. Uh-oh, I thought, I've seen this before. Some of the bags must have been breached during shipment, spilling popcorn into the box.
So I opened it to find that in between the small bags of popcorn, the whole box was filled with popcorn. Packing popcorn. It seemed to do the job traditionally performed by packing peanuts quite well, as the bags were all in good shape. The total amount of packing popcorn easily exceeded the amount of popcorn in the 10 bags. It was slightly messy to discard the packing popcorn into a garbage bag before breaking down the box for (as Mr. Burns would say) re-cy-cling, but thankfully they didn't appear to put any oil, butter or salt on the packing popcorn. I tried one of the kernels just for the heck of it, and it was stale, but I wasn't expecting edible popcorn.