Southern Style Chicken Sandwich just doesn't match up to a Chick-fil-A sandwich
By Melissa Shaw
Senior Reviews Editor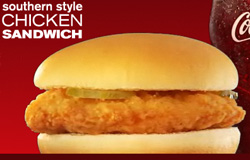 10.01.2008
McDonald's, I eat Chick-fil-A. I know Chick-fil-A. Chick-fil-A is my favorite fast-food restaurant. And you, McDonald's, are no Chick-fil-A.
Earlier this year, McDonald's introduced the Southern Style Chicken Sandwich, its blatant attempt at copying Chick-fil-A, from buttered bun and breaded chicken, right down to the pickles.
I resisted trying it for months as A) I had heard I'd be disappointed and B) I'm cheap. But our local, newly-reopened McD's was giving away free Southern Style Chicken Sandwiches, so I gave it a whirl.
McDonald's Southern Style Chicken is a direct ripoff of Chick-fil-A's famous sandwich, with the exception of taste. The McDonald's version lacks the overall deliciousness of Chick-fil-A. Maybe it's not pressure-cooked in peanut oil as Chick-fil-A's is. Had I never had a Chick-fil-A sandwich, I may have found the McD's version good. Regardless, once you've had the best in Chick-fil-A, don't try all the rest.
What disappointed me most about the Southern Style Chicken was the meat. The box trumpets "tender, juicy all-white meat!" My first bite was indeed all-white meat. My second contained some chewy gristle or tendon or something just gross — which is typical of McDonald's chicken nuggets. You buy 6 nuggets, you're guaranteed to get one gross gristley McNugget. As a teen, I loved McNuggets, but every damn time the experience would be ruined by eating cartilage or something similarly nasty. In the years I've been enjoying Chick-fil-A chicken sandwiches, I've never landed a piece of gristle, sinew, or anything other than pure white meat chicken.
So, given the choice of driving 1 hour to the nearest Chick-fil-A, or 5 minutes to the closest McDonald's, I'm gassing up the truck and heading north for the original — and best — fast food chicken sandwich.