A new look for the biggest brand in potato chips
By Jeremy Selwyn
Chief Snacks Officer
09.17.2019
As the top brand among Taquitos.net's 8785 snack reviews— with 190 varieties of Lay's potato chips and 31 kinds of Lay's Stax — it's significant when Lay's makes a relatively minor change to their famous logo.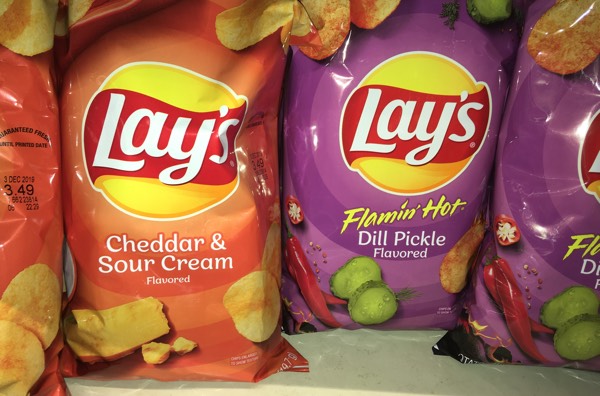 What jumped out at me when I spotted these bags of Flamin' Hot Dill Pickle in my local Wegmans store was the closed loop on the bottom of the y, but they actually altered the logo in several ways — with a shorter bottom of the L; changes to the shapes of the a, y and s; a less prominent shadow behind the letters; less color variation within the sun shape; and the disappearance of the halo around the sun. And although the halo is gone, both the Flamin' Dill and Cheddar & Sour Cream have new concentric rings spreading out from the logo across the entire bag.
Here's a comparison of recent and new, from the very same store, with the redesigned Barbecue flavor being sold alongside the longstanding design on Sour Cream & Onion: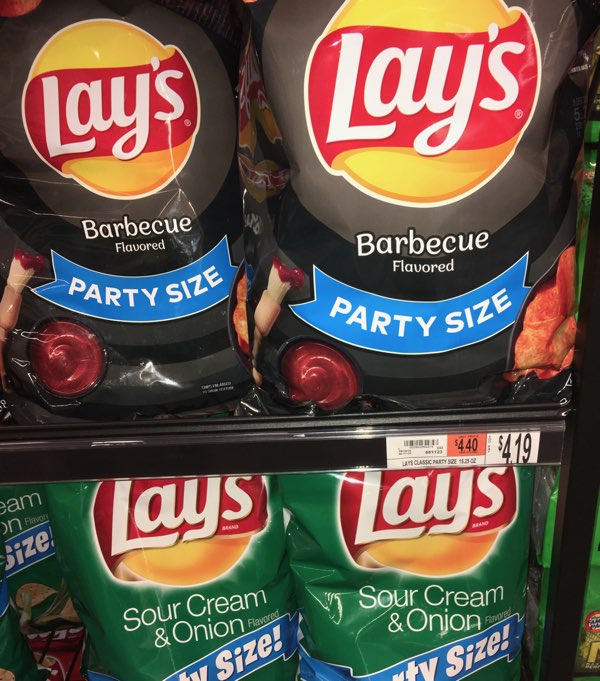 Going through the snack review archives, we can see that this is part of an ongoing evolution. Some of these changes are brand new, and some were seen before among the inconsistent versions of the Lay's logo seen across the globe.

Going from left to right: An even earlier version of the logo, with the letters not connected in script style, from the Canadian Ketchup flavor from 2001; the appearance of the script style connecting the a and y, as well as the sun halo in Cheddar Jalapeño from 2007; a return to the earlier disconnected letters in Deli Style in 2012; the looped y emerges while keeping the long L, script style and halo in Vegetable Soup flavor from Russia in 2013; and finally, a very recent Grilled Eel flavor from China that incorporated all of the logo changes (but with the logotype in both English and Chinese) that we found within a month of the appearance of the new look on the American bags.