Exploring food options at Fenway South
By Jeremy Selwyn
Chief Snacks Officer
03.28.2012

After many years of having their Spring Training at City of Palms Park in Fort Myers, Florida, the Red Sox convinced Lee County to build them a new stadium across town. Known as JetBlue Park at Fenway South, it duplicates the field dimensions of Fenway Park, along with many of the park's physical features.
But I'm not here to write about baseball or ballparks — I'm here to write about food. During my recent visit to JetBlue Park, I found that they've got a mix of Fenway food and some Southwest Florida specialties.

When arriving from Daniels Parkway, you'd have no idea this place resembles Fenway in any way. From the outside, it's got its own unique look.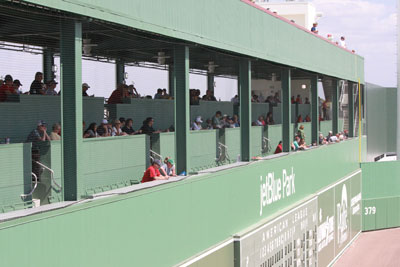 Once inside, the picture's quite different. Many areas of the park are painted Fenway Green, and the left field wall makes its own twist on the Green Monster, the major change being an in-play screen on the wall with seats behind it.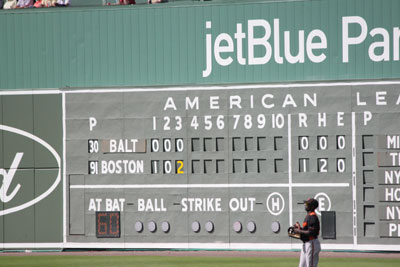 The scoreboard in left field is pure Fenway, as it's the actual scoreboard that lived in Fenway from 1975 until the renovations in 2003.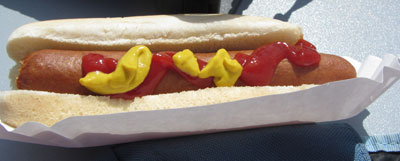 Time for some food. First things first, I needed a hot dog. I got one from the booth atop the Green Monster. Not a good one, as it turned out. I don't know why — maybe because this was just the second major-league game ever played at JetBlue so the concession people didn't have their act together. Dry and not flavorful. Plus, condiment choices were limited, just packets of ketchup, mustard and relish. Not a good start.

Here's the view from atop the wall.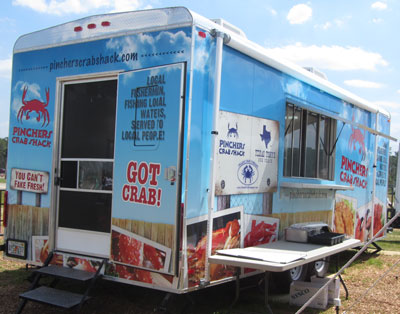 On to some more promising food. There was a concession area outside the stadium along the first-base side with some great food choices. Local seafood restaurant chain Pinchers had a truck, as well as two tables within the tents. Stone crabs are a specialty of this particular part of the world.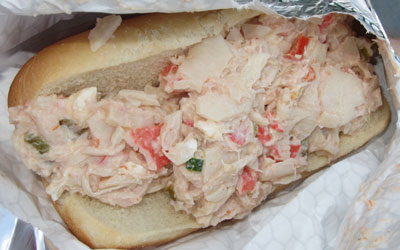 I opted for one of their crab rolls. The meat was moist and really flavorful. Great!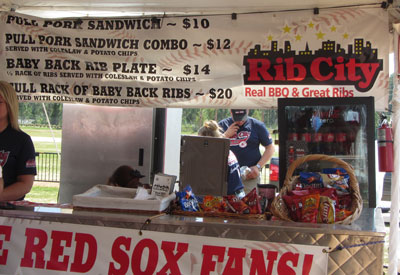 Another local chain with a major presence was Rib City. I didn't get anything from them (there's only so much I can eat during one game!) but the menu sure tempted me.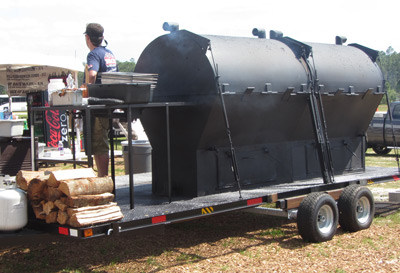 Even more impressive was Rib City's grill. This thing was huge!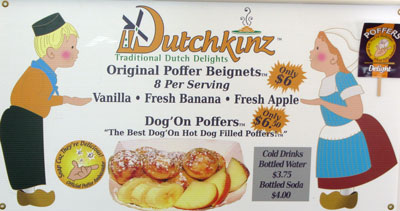 The local trend continued with something I'd never even heard of: An area company called Dutchkinz was baking Poffer Beignets — small round Dutch buns/pastries. The Dog'On Poffers version included slices of hot dog within the Poffer, so I opted for an order of those.
They were warm and soft and really tasty, with a bit of syrup to add some sweetness. Excellent. And the hot dog meat was a huge step up from my deficient Fenway Frank from earlier.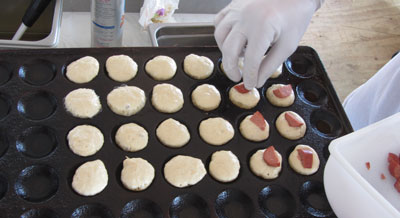 Here's a close-up of the Dog'On Poffers being prepared.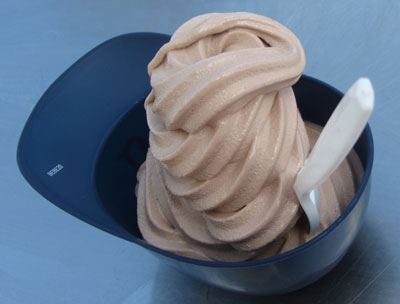 Now it's time for dessert. My stomach was begging for something sweet and cold, and the helmet sundae was a great opportunity to satisfy that need while expanding my mini helmet collection. I got the chocolate soft-serve. The tricky thing with the collectible mini-helmets is that once you're done eating the ice cream, they're coated in sticky melted ice cream. It sure looks silly to be rinsing it out in the ballpark's bathroom sink, but I didn't want to get ice cream all over me, nor to toss a perfectly good mini-helmet. This time I actually used the water fountain and some napkins to rinse it off.