La Perrada de Edgar's international array of hot dogs
By Jeremy Selwyn
Chief Snacks Officer
04.02.2012

Miami's North Beach area isn't as glamorous or famous as South Beach. It's a lot easier to get to and around, with smaller crowds and less traffic. It also turns out that they've got a great place to get some uniquely prepared hot dogs.
I stumbled upon La Perrada de Edgar while driving northward, away from South Beach. It's located on Collins Ave, just a block's walk from the beach.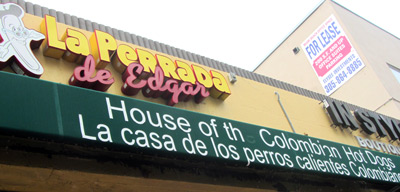 When I saw "Colombian hot dogs" on their sign, I had no idea what that meant, so I popped inside to check the place out.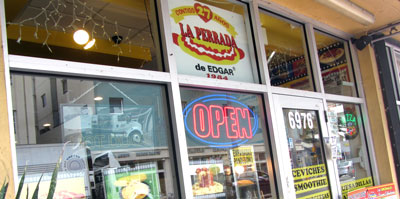 The Colombian hot dog is just one of 20 specialty hot dog recipes on their menu, which also features an array of other tempting dishes.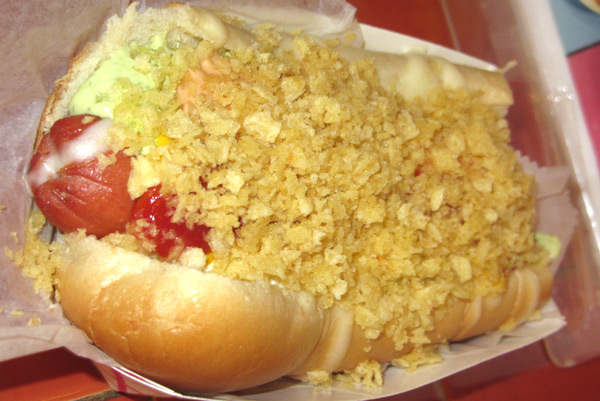 Ordering was not an easy decision, as almost everything on the menu offered combinations of ingredients I'd never seen together atop a hot dog. I opted for the Colombian dog, partly because I had already gotten the idea into my head, and partly because it sounded really good. It was dressed with "potato sticks" (which actually meant finely smashed potato chips), along with mozzarella cheese, onions, a special house sauce, ketchup and mustard. As you can see, the sauces generously filled the inside, and the crushed potato chips were piled high on top. It was indeed good — and also quite messy to eat. I got a lot of sauce on my hands and face, and a lot of crushed potato chips went all over the place.

18 of the dog recipes were detailed in large pictures on the wall behind the counter.

Here's the full text version of the hot dog menu from the opposite wall, translating those tempting pictures into English. (Adjacent to this list, they also had a Spanish version.)

I really wanted to order a few more hot dogs, along with something from their non-hot dog menu. But my Colombian dog was quite a lot of food, so I will have to save some of these items for my next trip to Miami.