Hostess expands its empire into the frozen aisle
By Jeremy Selwyn
Chief Snacks Officer
09.22.2017
Since the return of Twinkies and other Hostess products to the grocery shelves in 2013, we've seen many new varieties of Hostess snack cakes, but these new ones really caught me by surprise.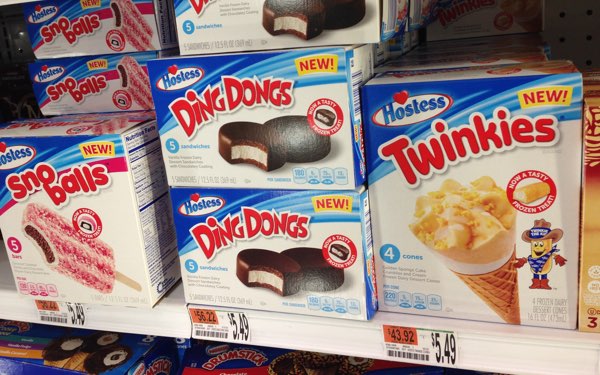 The big difference was where I spotted them — I never expected to see Twinkies and Ding Dongs logos in the novelties section of the ice cream aisle.
Let's start with the weird one. The Twinkies box came with four frozen treats, but they didn't remotely resemble Twinkies. They were just premade ice cream cones in a "Twinkies" flavor. The yellowish stuff at the top actually did remind me of the taste of Twinkies, but once I'd eaten that, it was just a sugar cone filled with vanilla ice cream (plus, super-oddly, some chocolate lining the inside of the cone).
For the Ding Dongs, they went with a much more predictable formula. These things looked exactly like Ding Dongs from the outside. On the inside, they subbed vanilla ice cream for the creme filling, and it seemed like there was actually even more ice cream than there is filling in a conventional Ding Dong. A great way to stick to the original Ding Dong concept while making a delicious chocolate treat!
The Sno Balls bars? Yeah, I didn't buy any.
One caveat to all of this is that, despite the Hostess label on all of these boxes, none were actually made by Hostess. They licensed the brands to Nestlé Dreyer's Ice Cream Company. Here's my challenge to Hostess/Nestlé Dreyer's: Please, let's see a frozen Twinkies ice cream treat that actually looks like a Twinkie!