Tasting two fancy ketchups
By Jeremy Selwyn
Chief Snacks Officer
07.10.2012

I don't think I ever put the words "gourmet" and "ketchup" in the same sentence until I spotted these two jars recently at HomeGoods. Even at $4 a jar, I decided against my normal instincts to buy them.
It's not that I don't like ketchup. I love ketchup (and ketchup chips) and I consume quite a lot of ketchup with certain foods, especially fries. But I don't tend to have much of it with things that I eat at home. I also don't normally give much thought to which ketchup to buy, as I consider them all to be about the same. I'll buy store-brand ketchup to save a few cents, and one midsize container will last in my fridge for a few years.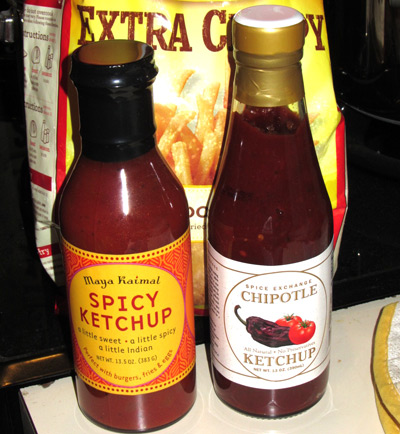 Maya Kaimal's Spicy Ketchup claims to be "a little sweet, a little spicy, a little Indian" and "Perfect with burgers, fries & eggs" and comes in a barbecue sauce-style bottle. Spice Exchange's Chipotle Ketchup comes in a more conventional ketchup-style bottle and promises "the freshest of ingredients blended perfectly with the smoky Chipotle Pepper. The result is a rich and smoky ketchup with a spicy flavor."
To test them out, I bought a bag of Ore-Ida Extra Crispy Fast Food Fries. I don't normally buy frozen fries, and that's part of why I don't use much ketchup at home. (I didn't notice it when I bought them, but it turns out that Ore-Ida fries are made by H.J. Heinz Company, which I found kind of funny, given that the objective was to dip them in non-Heinz gourmet ketchup.)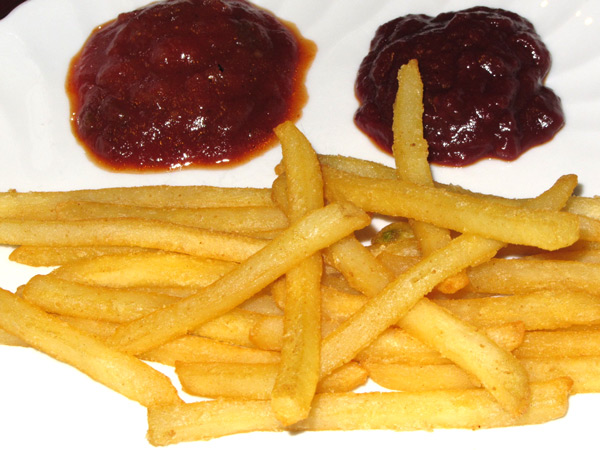 Here are the fries after baking, with a puddle of each kind of ketchup. The fries look good here, but they were not good. More on that later.
Spice Exchange is the darker kind, on the right. Its consistency was a lot like normal ketchup, and it tasted mostly like chipotle salsa.
Maya Kaimal (left puddle) reminded me mostly of chili sauce. It was a bit more watery than the Spice Exchange, and it had a hint of Indian spices. Without the extra spices, think Heinz Chili Sauce, but those spices were just enough to add a little something more.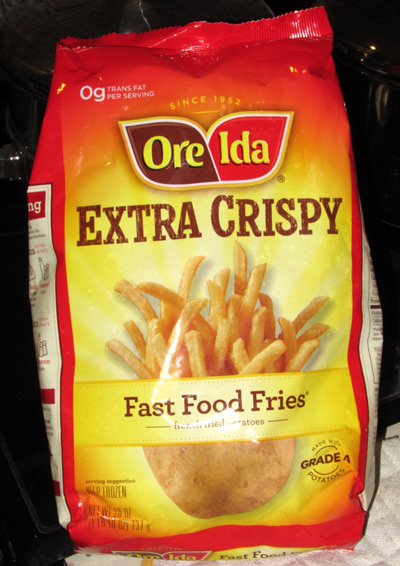 All in all, the fries experiment didn't work out so well, because the fries I picked were lousy, and you can't fully enjoy good ketchup with bad fries. Frozen fries are never any great shakes, but these were particularly bad. They weren't nearly as good as any actual fast food fries I've eaten, and they were far worse than Ore-Ida's standard crinkle fries.
When I tried both ketchups with hot dogs, the results were far better. The Spice Exchange was pretty good, with a nice salsa-like kick of chipotle pepper, and Maya Kaimal was really outstanding on a hot dog. Great flavor.
I shared the two jars with my running club at our weekly Hot Dog Run, where people were able to try them on several different kinds of dogs. Most people liked both kinds, but they raved about the Maya Kaimal version.