Not your typical slider
By Jeremy Selwyn
Chief Snacks Officer
07.26.2012

I discovered this food truck on the outskirts of Boston's Kenmore Square, amid Boston University and not far from Fenway Park. The truck itself looked a lot like an old-school ice cream truck and didn't catch my eye nearly as much as the name. Having lived in Philadelphia years ago, I know well what a hoagie is — but a frozen one? What's that about?
There was no way to find out without some eating!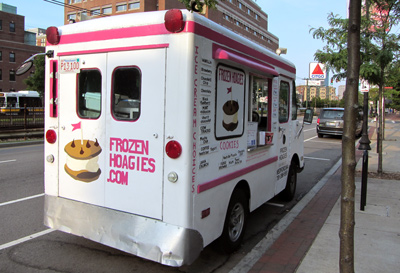 It turned out that Frozen Hoagies has nothing to do with the big sub rolls (or even bread) that the word "hoagie" brought to mind. The pictures on the truck told the story quite well. They sell ice cream sandwiches — but not your usual ones: custom-made made sandwiches using their own cookies and ice cream.
You can pick from six kinds of cookies, 10 flavors of ice cream (and even one kind of frozen yogurt), with three different sizes offered.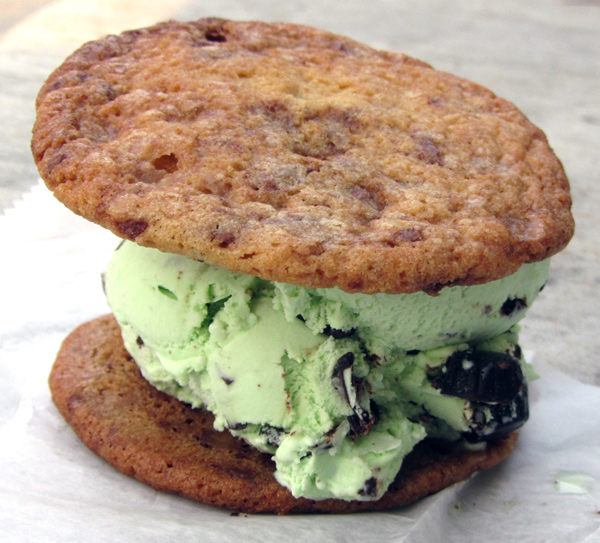 I got the Slider for $4, with Mint Explosion ice cream on Heath Bar cookies. It was really good, and despite the Slider name, it was positively huge. I'm glad I didn't opt for the even larger $6 Ice Cream Sandwich, thank you. (In the middle, they also offer a $5 bowl of ice cream, but when you're at a Frozen Hoagies truck, what's the point of that?)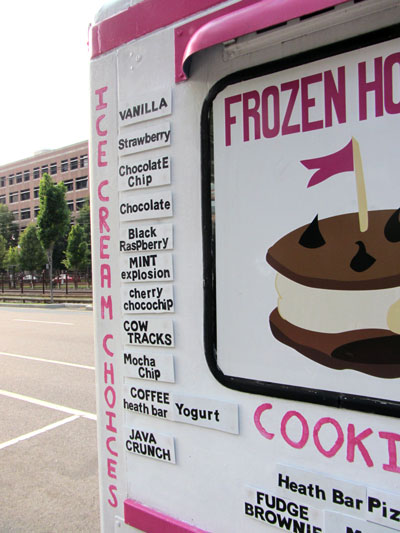 I'll need to plan some return trips to try out various other cookie/ice cream combinations!