Can waffles get even better with Star Trek characters?
By Jeremy Selwyn
Chief Snacks Officer
09.15.2009
For my latest adventure in the frozen aisle, I could not resist purchasing these Star Trek-themed waffles.
This wasn't just a fancy waffle box to promote a movie. Eggo went all-out and reshaped the surface of the waffles to create a flat surface in the center, then printed images of Star Trek characters (specifically, young versions of The Original Series characters from the prequel movie) onto the waffles.
In concept, this was unquestionably a brilliant idea.
However, the execution wasn't quite so perfect.
The first three photos to the left track the progress of first set of waffles that I ate (depicting Kirk and Sulu) as they proceeded through my food preparation process. Although Eggo flattened out the center to allow for application of their edible ink, they didn't get the images centered correctly. Sulu didn't come out too badly, but Kirk had part of his head printed on the waffle-shaped part of the waffle, so he ended up looking sort of like a Klingon.
For the fourth photo, we return for another day in my kitchen, as I prepared waffles depicting (I think) McCoy and Chekov. There are a couple of notable things here:
First, please notice the banana on my plate, clear proof that I'm eating healthier these days.
Second, once again Eggo didn't get the characters centered and ended up chopping off both of their heads.
Finally, I cooked this set a bit longer than the previous ones, though I would not say that I overcooked or burned them. In the process, it became apparent that the flat center area altered the thermal properties of the waffle enough that toasting to a comfortable level made dark spots appear in the character area, which severaly limited my ability to enjoy the Star Trekkiness of these waffles.
My previous Eggo adventures: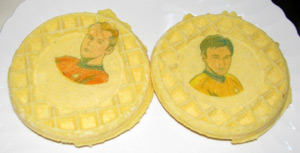 Frozen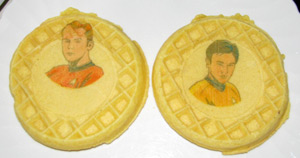 Toasted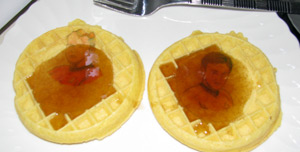 With Syrup
Another Day
More About Eggo Waffles