Seinfeld's invasion of the supermarket continues
By Jeremy Selwyn
Chief Snacks Officer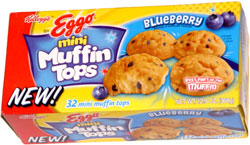 Top o' the Muffin?
Out of the Toaster
05.06.2008
Thanks to Jerry Seinfeld, the whole vocabulary of food has changed. Soup is no longer just soup — it's a privilege. Blow it, and "No soup for you!"
Real life has imitated fiction once again at your supermarket, as the good folks at Eggo/Kellogg's are following the wisdom of Elaine Benes and selling Muffin Tops, giving us just the best part of the muffin.
They win one point for trying, but as with the Lego Waffles, they might have missed the boat with their execution of this idea.
These muffin tops are sold in the frozen aisle and come in conjoined sheets of 4. Each sheet must be toasted (waffle style) before eating, and then you can pull apart the individual Muffin Tops.
Of course, real muffins don't come conjoined in sheets of four. Plus, they're made from full-size muffins, not mini-muffins. And most importantly, real muffin tops were originally connected to real muffin bottoms. Elaine can tell you that if you try to make just the tops, they're not going to feel or taste right.
These muffin tops were too flat, as the top of tops looked much rounder in the pictures on the box. The bottoms of the tops looked kind of like pancakes. They did generally taste like blueberry muffins, but they didn't have the texture that makes a muffin a muffin. And if we're going to eat four of the mini ones at a time anyway, then why not give us one full-size muffin top?
So this one might be good for a few giggles, but they've clearly failed to provide a worthy authentic muffin top experience.
(For more on Seinfeld food, see our coverage of Double Dipping and Chicken and Tuna.)
More About Eggo Waffles