Wordsmiths and tasters unite!
By Keith Shaw
Secretary of Snacks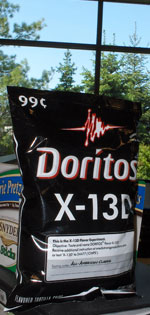 05.16.2007
Doritos has a new flavor, but instead of giving it a name like "Blazin' Buffalo & Ranch" or "Nacho Cheesy Cheesiest Cheeser," they've decided to let their customers do the naming. The new snacks come in a black bag with the name "X-13D" on it, along with some brief instructions on how you can get clues towards the taste.
According to the bag I bought at a local convenience mart, the winner of the naming contest will become a "Doritos Flavor Master," which means you get to taste test the latest snack innovations from the Doritos brand, as well as receive free Doritos Tortilla Chips for a year.
Get your taste buds cracking and see what the snack tastes like! Wonder what I thought of it? Check out our official review of the X-13D.