Are the Doritos version of mozzarella sticks really loaded with awesome?
By Jeremy Selwyn
Chief Snacks Officer
07.02.2014
Here at Taquitos.net, we're quite committed to tracking the latest from the world of Doritodom, whether that means eating 108 kinds of packaged Doritos, pondering their new logo or venturing to Taco Bell when they start selling Locos Tacos with shells made from Nacho Cheese Doritos and Cool Ranch.
This one caught me by surprise. I was quite delighted yesterday when I spotted this sign on the facade of the 7-Eleven in Boston's Kenmore Square.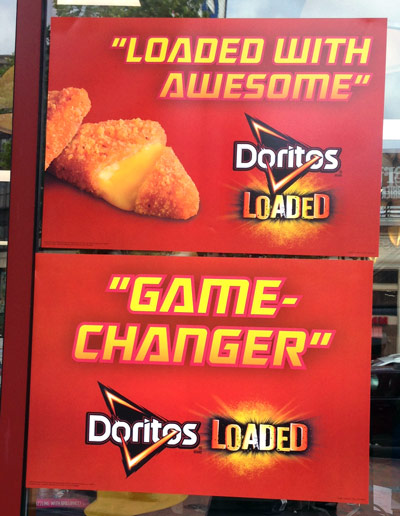 From the looks of things, Doritos Loaded is some sort of deep-fried, cheese-filled, Doritos-shaped, served-warm snack.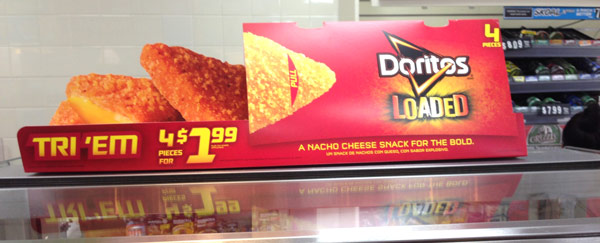 This display atop the counter containing the hot dogs, Go-Go Taquitos and various other bits of fried deliciousness seemed to confirm that. Apparently the plan is to sell four of these things for $1.99.
So I asked for just that, and I was told that they couldn't sell them until the stroke of midnight. It seems somebody jumped the gun with those signs.
Obviously, eating Doritos Loaded became a high priority in my life, so I seriously considered a midnight trip to 7-Eleven so that I could be among the first to legally eat some.
Needless to say, that didn't actually happen.
However, by the afternoon of the next day, as the buzz surrounding Doritos Loaded continued to build, I got the energy together to visit a different 7-Eleven (the newly renovated one in Allston, a block from Harvard Stadium, where ... gratuitous plug ... November Project meets every Wednesday at 6:30 a.m. to climb stairs).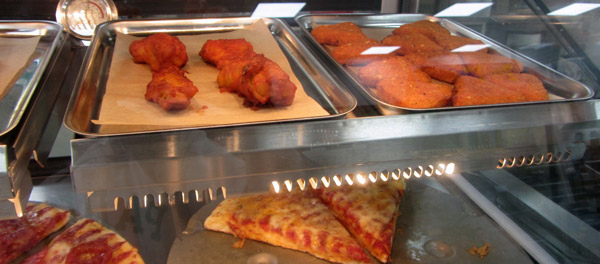 This was my first view of the actual Doritos Loaded, under the heat-lamp counter, at top right. I think those things at the left are chicken wings. Pizza below.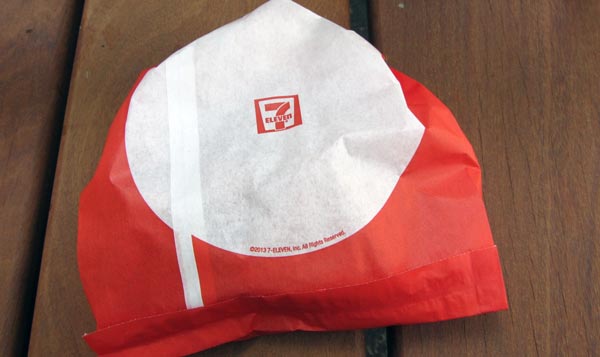 I was expecting a wrapper or box that at least somewhat resembled the promotional advertising for the Doritos Loaded. Instead, they came in this generic 7-Eleven envelope/sleeve.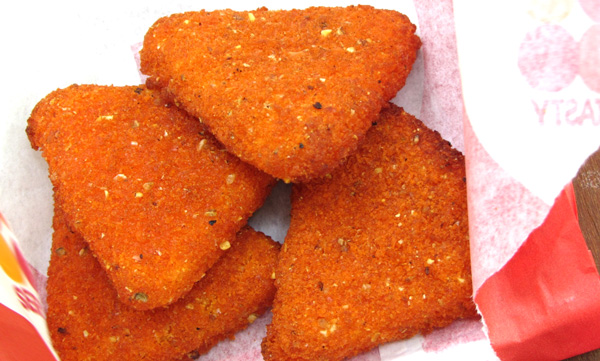 Here's what was inside. Each triangular piece was about the size of a Dorito, except quite a bit thicker and soft. They had a nice bright orange glow, with breading that seemed to be compatible with the Doritos concept.
I bit in to find that they were lukehot (a step above lukewarm, but still less hot than I would have preferred) and had lots of various cheeses to taste, with some spices too. The feel was like a mozzarella stick, but with a different mix of cheeses. At times, the breading did remind me of Nacho Cheese Doritos. It was pretty good, but I was a bit less than thrilled, as the cheese was just a bit more congealed and less melty than I would have liked. It might possibly have been just what I wanted if I had gotten it right out of the oven (or fry-o-lator or however they make these) but I have no idea how long these triangles sat around, post-cooking, before I bought them.