Cocoa Metro takes my favorite beverage to the Dark Side
By Jeremy Selwyn
Chief Snacks Officer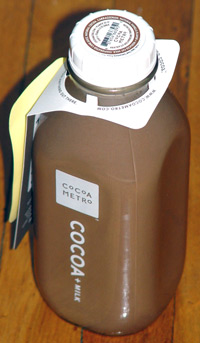 10.27.2010
I drink a lot of chocolate milk, so just as I can't resist buying a new salty snack, I'm always on the lookout for brands of chocolate milk I've never tried. But even I had to think twice before spending $6.98 for this particular quart of chocolate milk. However, this purchase has a bit a backstory.
Several friends had recommended that I shop at Russo's, as everyone said it's a great produce market. Russo's happens to be at the far end of the next town over, so I'd been meaning to make a trip there but just hadn't gotten around to it.
Meanwhile, I happened to notice an ad on Facebook for a brand of chocolate milk called Cocoa Metro. That was weird, because normally the ads I see on Facebook are of absolutely no interest to me. And yet, there it was. (Probably my status as a "Fan" of Chocolate Milk got me targeted for the ad.)
I clicked on the ad and was impressed by the Cocoa Metro website. And when I checked their list of stores, Russo's was on it! This moved a trip to Russo's quite a bit higher on my list of priorities, and I soon went and (despite some sticker shock) bought a quart.
So how was it? I'm a much bigger fan of milk chocolate than dark chocolate, and this definitely tasted entirely like dark chocolate. In fact, it seemed like I was drinking a dark chocolate bar. I have no idea how they made this work — after all, it's chocolate milk, so how could it not taste like milk chocolate? Somehow it didn't. I probably won't buy it again, because it's ridiculously expensive, and because dark chocolate's just not my thing. But I know there are lots of dark chocolate fans out there, so if you're one of them, I highly recommend giving it a try.