Improved road racing times linked to fried chicken
By Jeremy Selwyn
Chief Snacks Officer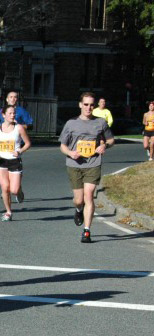 10.12.2009
Yesterday I completed my third half marathon of the year. Over the course of the three, I've managed to improve my times quite a bit:
• I trained a lot over the winter for the Hyannis Half Marathon on Cape Cod, but I struggled in the February race and finished in 1:51:31.
• For the Run to Remember in Boston in May, I picked up the training mileage a bit but still surprised myself when I ran 1:41:31 (adjusted to about 1:42:44 to reflect a botched course). I felt relaxed and strong throughout and kept a steady pace.
• Finally, I ran 1:38:11 at the BAA Half Marathon in Boston yesterday — my fastest half marathon in 8 years.
I won't bore you with too many the details of the running preparation, but I will share what I ate before each race.
The day before the February race, I had a fried shrimp roll with fries and chowder for lunch, then a nice pasta dinner at Fazio's in Hyannis. Standard runner food (dinner, anyway), but it didn't much help.
For the great May race, I had a huge lunch at Chick-fil-A — a deluxe Chick-fil-A sandwich, an order of waffle fries, a large lemonade and a large chocolate frappe. Plus lots of ketchup and Polynesian Sauce. Then for dinner I had two slices of pepperoni pizza. Pretty sure that's not standard runner food, but I will emphasize again that I felt spectacular during the entire race.
Having experienced what Chick-fil-A did for my running in May, I incorporated it into my training plan for the October race. My longest training run was a morning 16.5-miler, and I intentionally preceded it with a dinner at Chick-fil-A. I hadn't run that many miles in one day in over 10 years, but I felt strong throughout. I even managed to gradually pick up the pace, running every single mile faster than the one that preceded it. And I wasn't particularly tired when I was done.
So when it came to pre-race food for yesterday's race, the choice was obvious. Lunch the day before was a deluxe Chick-fil-A sandwich, waffle fries and a small chocolate frappe. Dinner was delicious but a bit random (since I was attending a wedding) but it did include a slice of pizza toward the end.
Thanks, Chick-fil-A! I worked hard and put in a lot of miles to get ready for this race, but there's no doubt in my mind that your delicious chicken sandwiches and wonderful side dishes and beverages helped me to maximize my performance.