New frozen-aisle meal reveals Star Wars secrets!
By Jeremy Selwyn
Chief Snacks Officer
11.27.2018
Every time a new Star Wars movie is released, it reveals exciting new details about the galaxy far, far away, while also raising new questions for fans. I recently saw Solo, which begins way back before Han Solo and Chewbacca first met, and it fills in much of the backstory for the crew of the Millennium Falcon. Not long after seeing the movie, I found this package of "Co-Pilot Chicken Breasts Nuggets" (from the Kid Cuisine division of food giant Conagra) in the frozen aisle of the supermarket.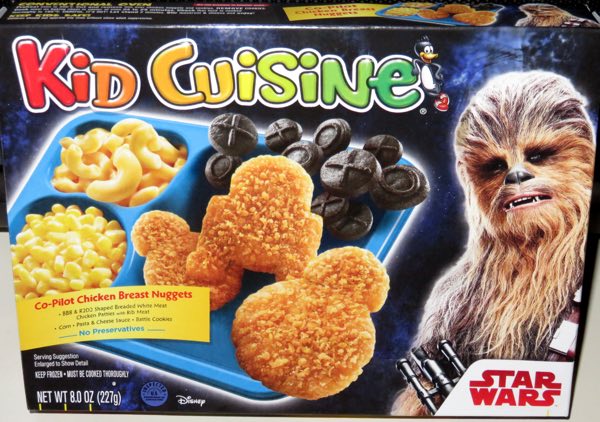 Combined with the movie, the frozen meal helps to answer some of the major questions about Chewbacca, though certainly not all. For example, what does Chewy do to relax when he's in between missions, back home on Kashyyyk? The movie didn't really say, though I'm figuring he spends a lot of time on the couch, watching Star Wars movies on Netflix. What does he eat? Now we know — he eats chicken nuggets shaped like R2-D2 and BB-8, with sides of corn, mac & cheese and little round cookies with X's and O's.

As for the food: The chicken nuggets were OK, about as good as you would expect TV dinner chicken nuggets to be. The box showed two BB-8 pieces and one R2-D2, but the actual contents were just the opposite. The corn and mac & cheese weren't in any special Star Wars shapes, as they were just normal corn kernels and mac & cheese, and they were both extremely bland. The cookies were described as "Battle Cookies" (whatever that means) and came frozen like everything else, but the instructions said to exclude them from microwaving. Being frozen wasn't much of a problem, at least by the time I ate them, as they had the same texture and taste as the cookie part of Oreos.