Cheetos Chicken Fries join the Burger King menu
By Jeremy Selwyn
Chief Snacks Officer
10.12.2016
I love Cheetos as much as the next guy (and probably more), so I think it's a good thing that they keep finding new ways to give various Cheetos products an ever-increasing share of people's diets. Taquitos.net has eaten and reviewed 83 varieties of packaged Cheetos, but that might be just the start. Now Cheetos is going after the prepared food market.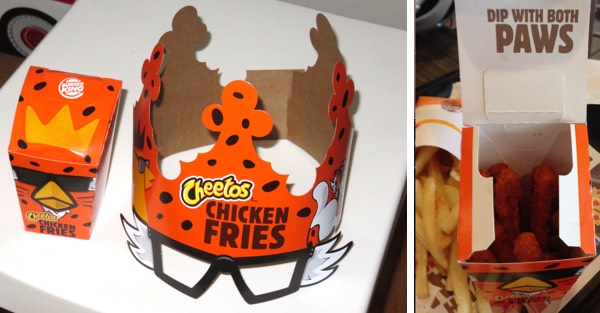 In recent months, Burger King started selling deep-fried Mac n' Cheetos, the Boston Red Sox mixed Cheetos with cheese popcorn to form Cheetos Popcorn, and in the craziest-sounding development of all, Burger King has gone a step beyond its Chicken Fries (What??) and created Cheetos Chicken Fries.
I've heard some other reactions to the Cheetos Chicken Fries — from people who hadn't eaten them yet — and generally people say they're really fearful. I try to keep an open mind on these things until I actually eat them.
I'll first cover the fries themselves, which weren't actually my favorite thing about this product. They had the same shapes as the (non-Cheetos) Chicken Fries that Burger King sells, but with a dark orange color on the breading. Chicken shaped like fries is still a weird concept, so I can't say that they looked great. I bit in to find that the taste was just OK, as it wasn't actively bad, but it didn't taste as good as most other fast-food chicken. There was a lot of breading, and it was orange, but I didn't taste the Cheetos at all. The fries shape actually works pretty well for dipping — BK offers the same selection of dipping sauces with these as they do with their other dippable items — as it's far easier to dip a chicken fry into a tiny tub than it is to dip a nugget, tender, wing or any other shape that I've seen. But the fact that it didn't taste anything like Cheetos (and none of the dipping sauces were cheese) kind of defeated the whole purpose.
What I really liked was the packaging and various other marketing materials. Burger King really went all out with this product, as they even designed a special version of the iconic Burger King crown. I must say, this is one of the best designs of anything I've ever seen, incorporating not only the Cheetos branding and a chicken, but even Chester's face and his sunglasses to line up with the eyes of the wearer. It's now one of my most prized possessions.