Contest lets public pick new snack flavors
By Keith Shaw
Secretary of Snacks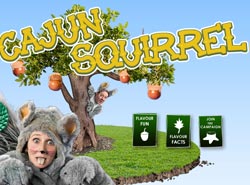 01.13.2009
I always knew that the flavor choices for potato chips (or crisps) were more daring in other countries than here in the U.S. — the market here can't even support a bacon-flavored chip for any length of time. But I never saw any that pushed the flavor envelope quite so far as in this recent story about Britain's leading crisp maker Walkers announcing the results of a contest that let the public pick some new crisp flavors.
The six winners:
According to the article, the Cajun Squirrel flavor was suggested by Martyn Wright, 26, who said he wanted to enter the contest when he saw squirrel on a restaurant menu.
All of the crisps will be sold until May, and then a vote will decide which flavor (or flavour, if you're from the U.K.) gets to stay on sale permanently. The creator of the winning flavor gets 50,000 pounds, plus 1 percent of future sales.